Those govt cuts - slasher horror or history-changing brilliance?
Computers, menus and ideologies: take your pick
Opinion So, these Tories and Lib Dems, eh? Baby-eating bastards or careful correctors of a drunken sailor's spending spree? The most painful cuts since Abraham's circumcision or a mild trimming of the fiscal sails? You can read it all either way and depending upon your pre-existent political prejudices you probably have done.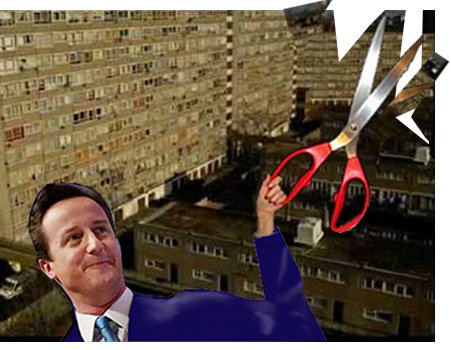 The cuts are ideologically driven, whatever platitudes the Boy Dave gives us.
This is the largest long-running reduction in planned government expenditure since the 1920s. It's also milder in each year than Dennis Healey's one year of serious cuts in 1976/7. Back then he cut near 4 per cent of GDP out of the budget in only one year while the aim here is to take 6 or 7 per cent out over the lifetime of the Parliament. Again, you can differ over whether it's all about too much spending in the past or the way the banks falling over has destroyed tax revenues. Revenues certainly have fallen – it's been a deep recession – but then public sector spending was rising swiftly just when a classic Keynesian stance would have said that it should have been falling. The other side of this "spend in recessions" is indeed "save in the booms": the amount of fiscal expansion you do should be balanced by the fiscal contractions over the entire business cycle.
But then macroeconomics – the study of the way the whole economy moves about – is that part of economics where we're really not sure that we know all that much. We've an awful lot of variables out there and we've really only got 10 or so business cycles to study (information pre the 1930s, pre the invention of the very concept of measuring GDP, isn't all that useful) and only two really big recessions/depressions, now and the Great one. The evidence we've got from those is also highly contradictory. If you concentrated on the US you'd probably buy the Labour story today: don't cut spending until the recovery is properly underway (the US 1937/8 recession within the Depression being the poster child for that) and thus just keep running up the debt until then. If you looked only at the UK experience, you'd probably buy the Coalition's story.
Cuts in British history
The big cuts here were in the early 1920s, and since we'd just finished fighting a world war, cutting the 50 per cent of GDP we were spending on the military sounds like a damn good idea: whatever it does to GDP or unemployment. In the Depression itself we didn't have the bank runs that the US had, didn't have great cuts or booms in spending: what we did do was come off the gold standard in 1931 and we'd started growing again by 1932 ... back to higher than ever GDP by 1934. (This is a great little site to explore all these sorts of numbers). We've just had a 25 per cent depreciation of the £ in the past couple of years, equal to that of coming off the gold standard. It's also true that exchange rates are much more important to us than they are to the US (twice as much of our economy is traded as it is in the US), meaning that as imports get more expensive there's more incentive to produce domestically, and as our exports get cheaper to others there's more incentive for others to buy them.
You can, just about, if you squint, see what has already been done as sufficient to get us out of all of this: as it did last time (early '90s, European Monetary System and Black Wednesday stuff) and the time before (1931 gold standard).
But, if we're to be honest, it's a bit of a gamble, as is letting the deficit rip until everything's been kissed better. My own opinion is that economists, with the macro side of things, are like generals: always fighting the last war/recession.
For example, the new big thing in macro is the New Keynesian synthesis: sorting out what went wrong with base Keynesianism in the 70s. At the heart of this "New K" is the idea of sticky prices, or menu costs. The idea comes from, well, menus! If prices are changing (up or down) how often will a restaurant reprint the menu? Purely an analogy for the costs of changing prices everywhere of course. Great, fine, lovely, sure it was true and is partially true today. Equally sure that these costs, as a result of computerisation (who actually has a printed price list these days? Who doesn't change prices daily, weekly?) are a lot lower than they used to be, meaning that we've got a little closer to where the assumptions of the New Classicals hold. Alternatively, we might look at the Keynesian assumption that labour is homogenous, and point to this year's Nobel prize in Economics, which went to the people who pointed out the search-and-matching costs of the fact that it isn't homogenous at all ... and that's probably enough macroeconomics for one day.
Sponsored: Detecting cyber attacks as a small to medium business