Dixons drops exclusive Toshiba Android tablet
Yanked temporarily due to 'very high return rates'
Update Dixons stores this weekend began charging a bonkers £999 for Toshiba's £329 Folio 100 Android tablet, apparently in an attempt to dissuade punters from buying the product.
The reason? According to a snap of Dixons' internal EPoS system, Eclipse: "Due to very high return rates, we are temporarily stopping sales of [the Toshiba Folio] and the price has been increased to £999 on Eclipse to prevent further sales."
Author of the note, Tom Bradley, PC World's Category Development Manager for netbook, projectors and e-book readers, wrote: "This seems to be a number of issues, and not once [sic] specific issue. If you have also experienced issues with the Folio, please feedback via the Online Store Medics site so we can collate the details."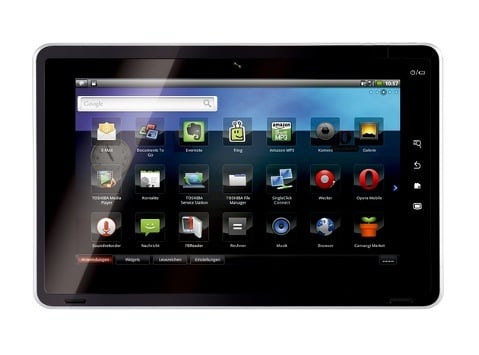 Toshiba's Folio 100: fail-io?
Bradley's missive suggests that Dixons stores didn't want to yank the product until Toshiba staff returned to work after the weekend and could tell the retailer whether a fix is in the works - or a full recall.
This morning, the Folio 100 was absent from both the PC World and Curry's websites. It was there last week following the Folio 100's launch on 4 November.
Dixons had a three-week exclusive on the Folio 100, Dixons retail spokeswoman Anina Castle told Reg Hardware. She confirmed the device had been removed from sale "temporarily" while the Dixons and Toshiba pursue a solution to the issues that led to what she re-iterated was a "very high rate of return".
Toshiba said: "Toshiba UK is aware of reports regarding customer returns of the Folio 100, and is currently working with Dixons Retail to provide a solution. An update on availability will be provided in due course."
Today is the day Toshiba was expected to roll out an update to fix the Adobe Flash playback issues a number of owners have been grumbing about on various online forums.
Similar complaints about the Folio's build quality makes us wonder whether Toshiba rushed this thing out of the door, or was too desperate to undercut Apple's iPad and Samsung's Galaxy Tab.
A number of posters claim Toshiba tech support told them the company was aware of issues with the tablet's performance.
"Mine was flying this morning and had me smiling again, since then it has slowed and refused to respond on several occasions. My call to Toshiba left me relieved that they were commited to fixing issues and the update software does look like it has been thought through. However, their admission, error or otherwise, that it will probably not be as smooth as my 500MHz Hero has me baffled and worried," wrote one. ®
Thanks to Phil Endecott for the tip
Sponsored: Your Guide to Becoming Truly Data-Driven with Unrivalled Data Analytics Performance