Xbox Kinect costs just £35 to build
Cheap as chips
After receiving positive reviews upon its release this week, Microsoft's Xbox 360 Kinect has been stripped naked and assessed for manufacture costs. It turns out that the materials that make up the motion-powered peripheral amount to just £35 - considerably less than its £130 RRP.
Although this figure doesn't reflect other factors such as R&D, assembly, marketing, packaging or shipping, the fact there's a £95 difference surely leaves sizeable leeway for future price reductions.
UBM Techinsights, the company responsible for this analysis, said - said by way of EE Times - that Kinect features chips from Marvell, Texas Instruments and STMicroelectronics, but the strength of its design can be credited to Israeli company PrimeSense which developed the peripheral's core image processing tech.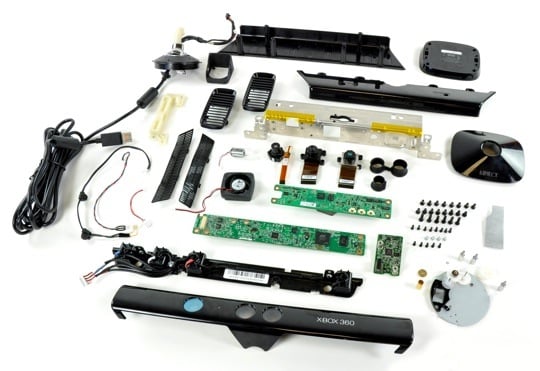 Source: iFixit.com
Gadget take apart and repair specialist iFixit also took the Kinect to bits this week, taking a stack of snaps showing the add-ons innards.
In the meantime, if you'd like to change channels with the wave of your hand, it's already possible. This year saw Dragon Den's Duncan Bannatyne invest in the Kymera magic wand, a motion-powered remote control which can learn 13 separate infrared codes triggered by various hand gestures. And they say television was the magic one. ®