Beeb to show unseen interview with Dr Who theme creator
Delia Derbyshire remembered
The BBC will next week air a previously unbroadcast interview with the late Delia Derbyshire, the synthesised music whiz who first realised composer Ron Grainer's famous Doctor Who score.
The interview, originally recorded by a BBC Scotland reporter in the late 1990s, was made after Derbyshire's pioneering work - no synths in the early 1960s, just audio oscillators and hand-spliced tape loops - began to find new favour with young electronic music makers and fans, and not just crusty old Doctor Who buffs.
Excerpts from the interview, along with previously unseen footage of Delia later in life at a Doctor Who convention, will be shown on Inside Out on Monday, 15 November on BBC One at 7.30pm.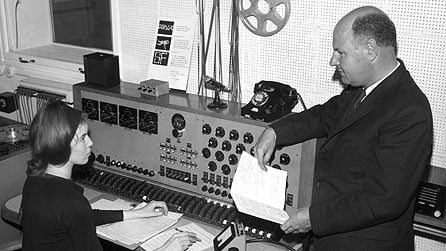 The snag: it's only being shown in the West Midlands, but the rest of us will get to see it on BBC iPlayer shortly afterward, Gone Digital reports.
Derbyshire, who died in 2001 at the age of 64, will always be most fondly remembered for the first broadcast version of the Doctor Who theme, but she worked on many other shows during her long stint at the BBC Radiophonic Workshop.
The Corporation closed down the Workshop in 1998, electing instead to look outside for electronic music and sounds, now made much more cheaply on new technology undreamed of when Derbyshire and fellow Workshop workers Desmond Briscoe, Dick Mills and Brian Hodgson started out in the late 1950s.
Derbyshire's version of the Doctor Who theme was used from the show's first broadcast on 23 November 1963 through to the the end of strike-hit Season 17 in 1979.
In 1967, Derbyshire and then Doctor Who sound effects producer Brian Hodgson added extra audio effects to the theme, to the extent that many listeners believe it to be a new, faster version. It's not. however.
For a few seasons in the early 1970s, Derbyshire's version was tweaked with an initial 'stutter' to tie in with the new, colour title sequence introduced with third Doctor Jon Pertwee.
When the BBC took possession of its first synthesiser, an EMS Delaware, in the early 1970s, Derbyshire, along with Hodgson and recent Workshop recruit Paddy Kingsland, created an entirely new version of the theme, though it failed to find favour with BBC bosses. Indeed, it sounds very dated now in a way that even Derbyshire's 1963 original doesn't.
You can read a detailed history of the realisation of the Doctor Who theme penned by composer and Radiophonic Workshop archivist Mark Ayres. ®
Sponsored: Becoming a Pragmatic Security Leader