Samsung NF210 dual-core netbook
Quirky design, state-of-the-art Atom CPU
Review Netbooks, irrespective of manufacturer, are based on a very well-defined set of specifications. How, then, do those manufacturers seek to separate their offerings from the herd? If you're Samsung, you come up with a quirky, curvy case design.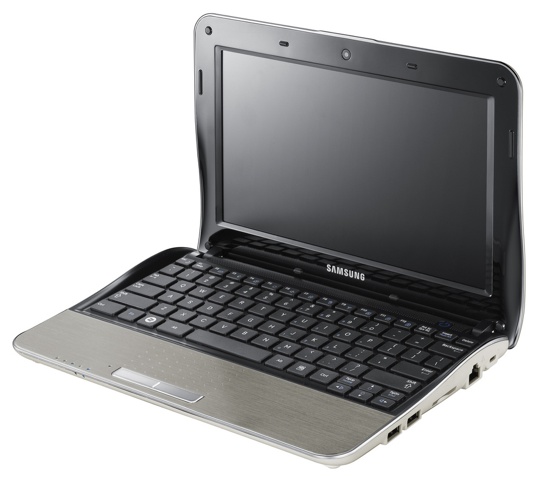 Samsung's NF210: matte display and latest Atom CPU on board
I'm not just describing the usual rounded corners and edges, there - I mean 'curvy' literally. Look at the NF210 side on, and the line that separates the bottom half from the lid curves gracefully up from the front and then quickly back down again at the back.
This is, of course, purely cosmetic and has the unfortunate effect that the casing rises 10mm or so above the keys at either side of the keyboard. The display - for once, a matte-coated screen, anti-glare display fans - has to be flat, so the lid thickens up at the back to make room for the cutaways into which the raised sides will sit when the lid is closed.
Visually, all this isn't unappealing, though it does give the NF210 a feminine quality, enhanced by the cream-and-black colour scheme, that blokey geeks may be uncomfortable with. It also makes the notebook considerably chunkier than it needs to be. Just 20mm at the front, the NF210 thickens to 30mm - or to 36mm if you have the six-cell, 6600mAh battery option that protrudes beyond the base of the machine.

Not a slimline netbook
In spite of the high sides, the NF210's calculator-style keyboard is fine to type on, with barely any flex. The design doesn't get in the way. The keys and surround are cast in matte black plastic, but the wrist rest has a charcoal brushed-aluminium look, though it's not made of metal.