NetApp heads in same direction. Only faster
Array into the future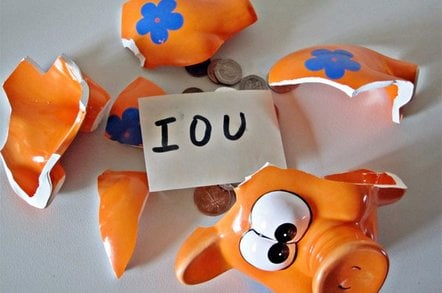 Like Mercedes spending €10m (£8.6m) to develop a new C-class that looks pretty much like the old one, NetApp is making a large announcement about the fact that its arrays can do more of the same, only faster and more simply.
NetApp wants to head faster into the cloud and virtualised data centres and has revved its mid-range and high-end controllers, added news SAS disk and solid state drives, improved its management and software licensing and crafted a pre-configured vBlock-like FlexPod for VMware with Cisco and VMware.
These things and their speeds and feeds are covered in individual stories. The overall story is that NetApp isn't introducing new hardware architectures or revolutionary software. Instead it is sticking to its unified storage architecture knitting and producing better and more capable products.
The NetApp view is that its competitors need multiple products and hardware designs to cover the same ground as its FAS 2000, 3200 and 6200 arrays and software offering Fibre Channel and iSCSI block storage and network-attached storage from the same product set.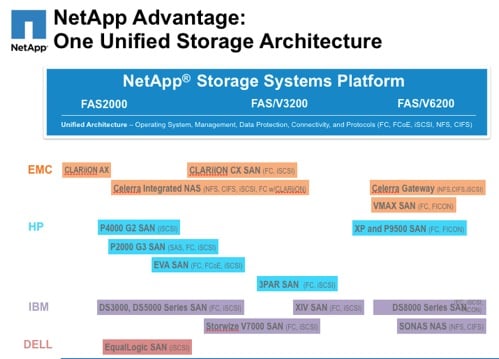 It says its customers, like SAP, benefit from having a single NetApp storage environment to manage instead of the multiple products needed to span the same application areas from EMC, HDS, HP and IBM. CIOs want to support multiple workloads and customer groups from a single IT infrastructure composed of integrated servers, networks and storage, a flexible and shared infrastructure. SAP supports this point of view.
NetApp's first product step on that road is the FlexPod for VMware, a pre-configured stack product using Cisco UCS servers with VMware, the Nexus 5000 switch and its FAS3200 arrays. There are bound to be more. Like EMC, NetApp says integrated stacks need best-of-breed storage products and EMC partner Cisco and EMC subsidiary VMware have recognised the strength of NetApp's market position and joined with it to create the FlexPod.
NetApp's announcement should resonate well with its customers, though some might wish it was going further, faster, with its tiered storage. Overall, the company has been growing sales fast over the past year, due to its virtualisation strengths, and has now strengthened its hand in the integrated cloud data poker game, and wants to grow even faster.
EMEA boss Andreas Konig reckons it can be number one in the storage and data management market in Europe by 2012; it already is in Germany. That means its sights are still fixed on the old enemy, EMC, which is number one in Europe. If it does this, Konig says, then the world number one position will be well in sight, and why not? ®