Quest gets some Bakbone for $55m
Upright data protection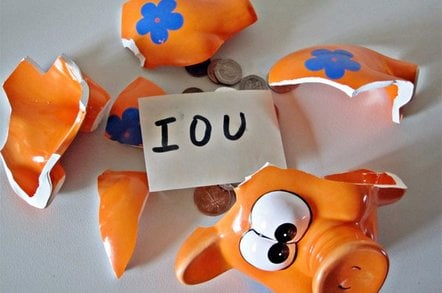 Quest Software is buying Bakbone Software for $55m, getting the data-protection-software maker out of the hole it had dug itself into.
Quest makes application-specific data protection software, such as LiteSpeed for MIcrosoft SQL Server and Oracle. Bakbone makes general data protection software under its NetVault brand. The two product sets barely overlap.
Competition in the backup software market is fierce. Bakbone's main competitors are Symantec, EMC, IBM (Tivoli), CA, and CommVault, along with newer VMware-focussed players like Veeam. I guess we can say, without being unkind, that Bakbone is just another middle-rank backup company, and one that doesn't have a stand-out advantage in any particular product area. It's too large to focus on or excel in any niche, too small to build a groundbreaking product set covering all the data protection bases, hasn't been able to retain strong OEM partners, and is not large enough to fund all the technology developments it needs to prosper and survive as the world and its brother moves to cloud computing. This is a bleak picture. How did it get into this state?
Bakbone was founded as a Canadian company in 2000 but its history goes back further, to 1993 and AT&T. Its NetVault product was originally located in AT&T's CommVault department. Various events led to the NetVault technology ending up owned by Bakbone and then redesigned and re-written. The company progressed but encountered troubles in 2006 when it was de-listed from the Toronto stock exchange for filing lapses. It did get its listing back though.
The financial picture at BakBone is poor. Its fiscal 2010 revenues were $61.9m with a net loss of $9.8m. This contrasted with the previous year's revenues of $56.0m and $5.5m net loss. A picture of greater revenues and a larger loss is not good. The fiscal 2011 first quarter, which ended on June 30, did not bring any respite either. Revenues of $14m were down on the year-ago quarter's $16.6m in which a profit of $691,000 was made comparing badly to the first quarter 2011 net loss of $3,000. The only direction we can discern from these results is down.
In its fiscal 2009 year, several of Bakbone's OEM arrangements terminated, resulting in a significant decline in OEM bookings for fiscal 2010. OEM revenues in North America fell 21 per cent from fiscal 2009 to fiscal 2010, and declined 23 per cent in EMEA geographies as well.
OEM channel fails
The existing OEM plus distributor/reseller sales model is broken, and Steve Martin, Bakbone's CFO and interim CEO, has been looking to the channel to bring in revenues to replace those that have leaked away. As the OEM business started shrinking Bakbone took its eye off the ball and tried diversifying into messaging to bulk up its business instead of bringing its core NetVault backup software business into profitability.
Bakbone, then led by CEO JIm Johnson, had bought the assets of crashed continuous data protection vendor Assempra in May 2009. During the Johnson years, the NetVault product set had embraced backup to disk, deduplication and replication as well as virtualised servers and Assempra-based continuous data protection. So we can't say BakBone ignored NetVault development. But we can say that the development effort wasn't enough, regrettably, to build a must-have product.
Bakbone also bought Cold Spark and its messaging business for $15.9m as well that May. It was his death warrant in retrospect because, in April 2010, Jim Johnson was let go. CFO Steve Martin became interim CEO and the board announced a search for a new CEO. Martin closed down the Cold Spark messaging division in May and the financial results for that quarter, with the $3,000 loss show why Johnson had to go. That was $15.9m wasted in a year the company made a $5.5m net loss. Talk about a desperate throw of the dice; it might as well have gone to Las Vegas and put the $15.9m on a roulette wheel.