WD and Xyratex discuss future tech roadmap for disk drives
Heat-assisted magnetic recording product could arrive by 2014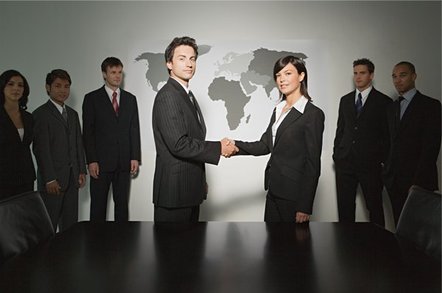 It seems the disk drive industry has decided which future technology to use and in which order, judging by recent Western Digital and Xyratex discussions with investment analysts.
The current perpendicular magnetic recording technology (PMR) is running out of steam as continued size reductions in the magnetised bit area lead to unreliable data storage. There are two long-term technologies suggested as a way to defeat this: heat-assisted magnetic recording (HAMR) and bit-patterned media (BPM) plus a short-term boost to areal density improvements with PMR by using partially overlapping tracks in Shingled write technology.
WD's CFO, Wolfgang Nickl, presented to financial analysts yesterday and provided a three-step technology roadmap. He anticipates a move to Shingle writing in 2013, HAMR, which he called Energy/Heat-Assisted Magnetic Recording or E/HAMR, in the 2014-2015 period, and BPM in 2020 or so. as noted by Stifel Nicolaus analyst Aaron Rakers noted that these dates were later than previous predictions.
At the same event, Harold Lehon, Xyratex's EVP for the storage infrastructure part of its business, said that recent areal density growth had been at the 40 per cent per year rate and that it was now slowing, possibly heading towards a 25 per cent rate. Lehon said he thought that Shingled writing could be realised through 2015, two years later than WD's data.
Apropos Shingled writing: Lehon thinks it could enable areal densities to reach 1.5TB/in2 and, because of the large data reading, storing and rewriting operations needed when tracks are re-written, will require NAND flash on the disk drive on-board controller.
The hard disk drive industry could begin to implement HAMR technology in 2014, working on developing it before then. It would enable 4TB/sq2 areal density levels.
Xyratex has said before that vendors could increase the number of platters and heads in drives to compensate for slowing areal density growth and still offer higher capacities year on year.
Given that WD is a partner of Seagate and others in the Storage Technology Alliance, which was set up to agree an industry-wide approach to technology developments, the implication is that HAMR has been decided as the main approach to take, with BPM following on afterwards. There was a seeming consensus that Shingled writing was feasible, but no agreement between Western Digital and Xyratex about its possible introduction.
Flash impact
Regarding the flash impact on PC hard disk drives sales, Nickl said that about two per cent of PCs bought are using solid state drives(SSDs) and that a 256GB PC SSD costs about 17 times more than the same capacity hard drive. He reckoned that SSD areal density curve was increasing at 33 per cent a year through to 2020 while the hard disk drive areal density increase rate was 33 per cent.
Nickl predicted that WD would have an enterprise-class SSD product in the fourth quarter of 2011. WD is looking at the hybrid drive market, meaning Seagate's Momentus XT with an onboard flash cache, but did not say whether WD had decided to make a similar product.
The net of this is that we'll have another PMR generation and could see HAMR product introduced in 2014 with a possibility of Shingled writing extending PMR's capacity the year before. ®
Sponsored: Practical tips for Office 365 tenant-to-tenant migration