Ofcom explains the not in the not-spot
It's money, not NIMBYs, that stops us calling
Ofcom has been taking a long, hard look at why some areas of the country don't have mobile coverage, and reached the shock conclusion that it's 'cos no one lives there.
Not that the regulator jumped straight to such a decision. First it commissioned a 61-page report from PA (pdf) to examine the issues around not-spots, and then published its own 70-page analysis, which concludes that operators aren't building out 2G coverage anymore and that they only build 3G networks where there are customers to use them.
That might sound obvious, it certainly does to us. But Ofcom's analysis spends many pages running through alternative reasons, such as an inability to get planning permission for new masts, or operators' focus, before concluding that it is population that drives operators to build out networks.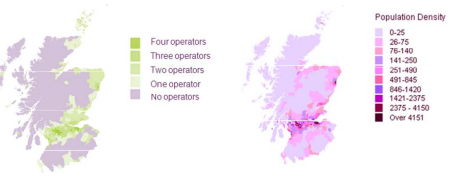 There's not a lot of people up here, and not a lot of money either.
Ofcom reckons 97 per cent of the UK population has 2G network coverage, which covers 91 per cent of the country. Only 76 per cent of the country has 3G coverage, though 87 per cent of the population still have at least one operator providing outdoor 3G coverage.
Along with the new analysis, the regulator has provided some recommendations for consumers: check coverage before you buy, check the returns policy, and consider a femtocell. The latter option is, of course, depending on the customer having decent (fixed) broadband which is a shame as ADSL range often coincides with lack of cellular coverage.
But an operator's base station costs around £60,000 to build, and sometimes twice that, then there's around £15,000 a year in rent and maintenance. Even a little microcell can cost £45,000 plus a couple of grand in annual maintenance, so customers have to make a lot of calls to make that worthwhile. Such costs are higher in the remote regions where back-haul is more of a problem, reinforcing the problem.
And it's not a problem that Ofcom can solve - the regulator has no remit to force operators to build out. It can encourage network sharing as 3 and Everything Everywhere are doing, but only encourage, not mandate. O2 and Vodafone still claim to be working on shared air conditioning, and power supplies, which should cut costs slightly, but only where they both want additional coverage.
The only thing the regulator can do is make the provision of national coverage part of a licence obligation. That's hard to do retrospectively, but Ofcom will be selling off Digital Dividend licences next year and will soon be consulting on whether they should carry a coverage obligation. The public balked at paying 50 pence a month to provide wired broadband to the countryside, a national-coverage obligation would be much the same thing - resulting in urban wireless users subsidising rural coverage - but might be an easier pill to swallow if only 'cos they'll be able to use it on their days off. ®