Ex-Red Hatters eye Larry's MySQL wobblers
Lessons from Sun: back to PostgreSQL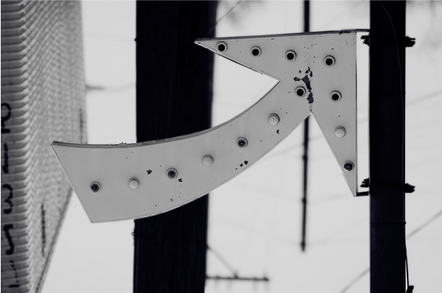 Pg West 2010 EnterpriseDB is changing its tune, hoping to snag defectors from MySQL as well as Oracle's proprietary database.
The PostgreSQL-based company told The Reg that it's now trying to engage more with the PostgreSQL community by sponsoring events like this week's Pg West 2010 in San Francisco, where it can evangelize the platform and bring developers, customers, and partners together. Also, EnterpriseDB hopes to make more of the fact that it employs what it called a "large" number of committers, plus two of PostgreSQL's core community members.
Earlier this year, EnterpriseDB hired the former head of Sun Microsystems' MySQL business, Karen Tegan Padir, as vice president of products and marketing.
Padir had led technology and engineering at MySQL after Marten Mickos left Sun, and she had served as vice president of Sun's GlassFish, Identity Management, and SOA products.
Chief executive Ed Boyajian told The Reg the goal is to become like Red Hat is to Linux. Red Hat is synonymous with its base project, and it cultivates a community feeding its commercial product. A lofty goal, as Red Hat Linux is based on the popular Fedora distro that hit version 14 this week. Plus, it's hard to just kick-start a developer community in an area where MySQL has made the running.
This the first time a business has tried to put some corporate muscle behind PostgreSQL to focus the community. Sun began pushing PostgreSQL as the alternative to MySQL through integration with Solaris starting in 2005, and it hired PostgreSQL brain Josh Berkus to work on integration. That was just as Padir re-joined Sun after a stint at Red Hat and just before Sun bought MySQL in 2008.
EnterpriseDB's branded version of PostgreSQL is its Postgres Plus product. The company's primary message since being founded in 2004 has been compatibility with Oracle's proprietary database, a message designed to help persuade corporate suits they can afford to make the switch.
"We still have the Oracle compatibility - that's what we were mostly known for," Boyajian said Thursday. "We've set out to change that from not so much the Oracle compatible company to be the enterprise PostgreSQL company - we're to PostgreSQL what Red Hat is to Linux."
Boyajian was brought in by EnterpriseDB's management in June 2008 from Red Hat, where he was vice president and general manager for North American sales. Padir's period at Red Hat saw her become vice president of engineering.
EnterpriseDB's switch is timely. Boyajian and Padir claim they've had a surge of interest from Oracle's MySQL customers concerned that the suppler of their tier-two database, MySQL, is now the same company supplying their tier-one database: Oracle. Oracle still drives the majority of EnterpriseDB's business, but MySQL is now about 20 per cent.
That surge came before Oracle this week doubled the price of MySQL, while removing the InnoDB transaction engine from the embedded edition of its product, used by ISVs and OEMs.
"We get questions form existing MySQL customers asking can PostgreSQL do for me what MSQL did?" Boyajian said. "We've seen a very, very large increase in downloads of MySQL migration whitepapers and wizards. It's not an area we've spent too much focus on."
Padir believes building the community around PostgreSQL will make the project and EnterpriseDB's product more appealing from a contributors' point of view.
While people can contribute changes to MySQL, the Oracle Contributor Agreement for MySQL that was written by Sun assigns copyright to Oracle in addition to the code's owner. Given Oracle's developing a penchant for not playing by the rules elsewhere in the community (cough, JCP), that commitment's about as valuable as the digital paper it's written on. PostgreSQL is licensed under the BSD-like PostgreSQL License, where you - the contributor - keep all rights.
Also, Padir reckoned, while anybody could submit changes to MySQL actually having them accepted was another matter, owing to the database's sheer complexity. It came down to Sun developers who knew the project intimately as to whether your code got added.
But now large numbers of those experts have either left or are leaving Oracle. Oracle has made it clear it's following a roadmap it wants on features in the paid versions of MySQL. Both facts will make it even less likely you'll get the features you requested added to the paid version of MySQL you're using.
Nothing is selfless in business, not even open source, and EnterpriseDB hopes that by rallying a PostgreSQL community it can focus what is a disparate set of developers who have day jobs. MySQL benefited from the fact a large number of the engineers and maintainers were contained within a single operation (before Oracle bought Sun).
Boyajian told us: "The more PostgreSQL is among developers and users, the more business we can throw our business at."
EnterpriseDB will keep working on compatibility with Oracle, he said, but if MySQL customers want to escape the grip of Oracle over the long-term - rather than just pay low-priced support costs by turning to a MySQL support start-up - then PostgreSQL provides a better option.
Let's hope EnterpriseDB's commitment to PostgreSQL and the community lasts longer than Sun's. ®
Sponsored: Webcast: Build the next generation of your business in the public cloud