US smartphones – Once you've had Android there's no going back
Looking to the future on the verge of 4G
Among those who chose a device in the last six months, Android took the lead in Q3, while RIM Blackberry and Apple iPhone are practically tied for second place.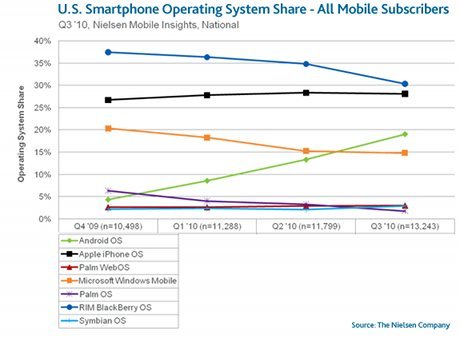 There are some ethnic and age differences in which parts of the US community is picking which handsets, and the owners of Android smartphones tend to be younger than those attracted by the other operating systems. But if those graphs continue, and we cannot see anything much getting in their way, then Android will rule for many prosperous years. What happens then to Apple and RIM are anyone's guess.
We can perhaps draw two or three thoughts from this for the future. While it has taken about eight years for 3G technology to mature and come down in price enough to be properly harnesses by a wide range of consumers, that doesn't mean that it will take that long again for 4G.
This generation wanted better, more sophisticated UI and a wider range of application availability, before devices had enough of an advantage over feature phones.
Prior to these smartphones, all the development was vested in a wide variety of handset vendors and operators, and now it is shared with the OS owners. So we reckon that 4G will happen faster, but there will still be a substantial transition period.
Also, at the beginning of 3G, there were very sparse Wi-Fi networks in place for data offload, and they are far more prevalent now and more handsets have WiFi than ever before.
But it is also worth understanding, that in the same way that there was no going back once everyone had a PC with Word, Powerpoint and Excel on it, there have been substantive lifestyle changes among consumers. So using the internet, and accessing Facebook or Twitter on your phone and having entertainment at your fingertips all the time, is now a brand in its own right. Youngsters do, oldsters don't – it identifies who you are and a handset choice of today is like buying a car or deciding on what side of town you want to live. It says quite a lot about you.
And all that means is that consumers are ready for 4G data rates because many networks are creaking and they want more and more data on their phones.
Copyright © 2010, Faultline
Faultline is published by Rethink Research, a London-based publishing and consulting firm. This weekly newsletter is an assessment of the impact of the week's events in the world of digital media. Faultline is where media meets technology. Subscription details here.