Teradata rides data analytics wave in Q3
Raising guidance for Q4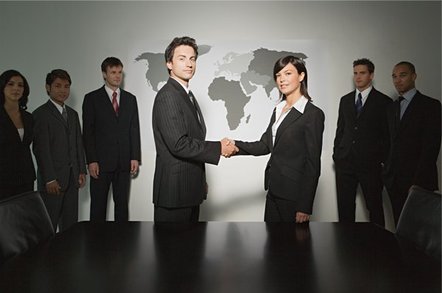 Data warehousing and analytics is not a booming business, but it is doing a lot better than other sectors of the IT economy. Teradata is benefiting from the increasingly complex data types and sources that companies are chewing on to help drive new business and keep current customers happy.
In the third quarter ended in September, Teradata's hardware and software revenues grew by 27 per cent to $243m. Data warehousing appliances sales are still around five to 10 per cent of sales, the company said, and no customers have yet converted from appliances up to the full-tilt Enterprise Data Warehouse clusters.
Among new accounts, the appliance products sold by Teradata are being picked up by under half of the new customers. But as Mike Koehler, president and chief executive officer at the company, said in a conference call with Wall Street analysts, the appliances allow Teradata to chase new opportunities among smaller customers and for very specific niche data crunching needs.
In the quarter, maintenance services revenues increased by 4.5 per cent to $115m, and consulting services rose by 5.6 per cent to $131.
All told, the data warehouser posted sales of $489m, up 15 per cent. Net income rose by 19 per cent to $75m.
Koehler said that Q3 exhibited the highest growth that Teradata has seen for its products in ten years, and that new customer additions for the year to date were the highest that the company has seen in six years. So maybe this is a baby data warehousing and business intelligence boom after all?
By geography, Teradata still gets the bulk of its sales in the Americas region, but Asia/Pacific-Japan is coming on strong and could soon bypass the EMEA region thanks in large part to financial services companies in China needing to chew through lots of data.
In the third quarter, sales for Teradata in the Americas region hit $292m, up 18 per cent, while sales in EMEA were flat at $109m. (Reckoned in local currencies, however, sales in EMEA rose by 17 per cent.) Revenues in the APJ region rocketed up by 28 per cent to $88m.
For the nine months, Teradata's sales rose by 14 per cent to $1.39bn and net income is up 27 per cent to $216m.
Based on the enthusiasm for DW and BI products but balanced against the wiggly economic situation, Teradata is confident enough of how its year is going to raise guidance for the full year. The company had been expecting sales for the full year to grow by between eight and 10 per cent, and had been edging that up to the high end of the range, and now says it expects annual sales to be up by 12 per cent.
The company is also raising its profit guidance, and now says that it can bring $1.71 to $1.74 in earnings per share to the bottom line for the full year, up from a previous expectation of between $1.60 and $1.70.
With $741m in cash and a growing business, Teradata would be a prime takeover target for IBM, Hewlett-Packard, Oracle, or others looking to boost their systems business. The problem is that Teradata has a market capitalization of $6.84bn as El Reg goes to press, and would probably fetch something on the order of $9bn to $10bn if it was acquired. And none of the big IT players - with the exception of Cisco Systems - has that much net cash sitting around. ®
Sponsored: Minds Mastering Machines - Call for papers now open