Netbooks: notebook evolved - or stunted throwback?
Demand for tablets suggests the latter
Heads or Fails Market watcher ChangeWave this week revealed that netbook popularity has plunged - but not necessarily in the wake of the iPad's introduction.
ChangeWave regularly polls punters to see what gadgets they plan to purchase in the coming months. When it comes to netbooks, CW said, only 14 per cent of those North American consumers who said in October 2010 that they will buy a mobile computer in the next three months will choose a netbook.
That's down from a peak of 24 per cent in June 2009.
Consumer Netbook Demand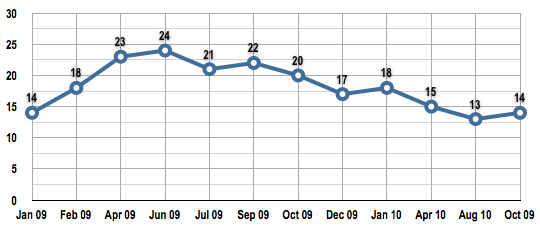 "Do you think the laptop you plan on buying in the next 90 days will be a netbook?"
Source: ChangeWave
Interestly, netbook demand as monitored by CW has been sliding since that time. October's score of 14 per cent was one percentage point up on August's 13 per cent, but these slight rises have been seen before - and so far always followed by a drop.
Still, it's hard to conclude that the arrival of the media tablet, as typified by the iPad, hasn't played a part in the netbook's decline, though we'd also suggest that disappointment with the battery life, performance and portability issues - for small computers, modern netbooks are surprisingly chunky - will have been factors too.
Consumer Tablet Preferences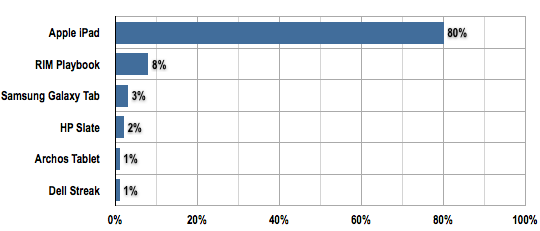 "Which of the following tablets devices are you most likely to purchase?"
Source: ChangeWave
CW's numbers show by far the majority of punters considering the purchase of a tablet have their eye on the iPad - 80 per cent of them - but that other vendors' offerings are starting to score.
The bad news for Apple's biggest competitor so far - Samsung, with its Galaxy Tab - is that more than twice as many consumers are interested in the RIM BlackBerry Playbook that the Tab, which rates only slightly higher than the HP Slate/PalmPad and the Dell Streak.
But what all these gadgets offer is easy consumption of media and web access in a conveniently sized, light form-factor. All the netbook has to offer is a keyboard - it's fatter, heavier and doesn't run for as long on battery charge. Sure, it has a faster CPU, but not one that gives it a big advantage in the tasks the netbooks and tablets are typically put to.
So, is it time to admit that the netbook has had its day? Was it just a brief distraction until the industry could come up with a UMPC - remember them? - that was actually worth using?
Or did the manufacturers get it all wrong, cramming their machines with fragile HDDs rather than resilient SSDs and trying to make netbooks into little laptops rather than the information appliances that tablets have become?
Over to you... ®
Sponsored: Detecting cyber attacks as a small to medium business