Shut up, Spock! How Battlestar Galactica beat Trek babble
TV science adviser talks Cylons with El Reg
Running rings around sci-fi
According to Grazier, the idea was mostly to weave the science and technology into the fabric of daily life, let the drama unfold and characters speak and interact without breaking the dramatic spell. To make the technology as natural to the characters as an iPhone or a laptop is to the viewer in their daily life today.
"We were just describing these peoples' days and the things you see are just part of their days," he said.
"The goal of the screen writer is never to wake the audience from your dream," he said. "When you do, the person goes from being immersed in that world to being: 'Hang on, I'm a person sitting in a chair in the 21st century watching TV.' You've given them 'the bump' [Inception reference, for any Inception virgins still out there]. We tried not to do that."
Grazier worked closely with Galactica's writers, advising on their ideas and the producers' concepts about where they wanted to take the show.
Science was respected, he said, but in any clash between drama and science, the drama won. The science was also eschewed when Galactica touched on something spiritual, such as the Cylons' exploration of God. That said, Grazier is complimentary about his colleagues. "They had a science adviser, but they didn't need to listen to him. Even when they didn't take my suggestions I never felt that I wasn't listened to, and that's special - that's rare."
Why was Grazier listened to in the first place?
Grazier is a scientist on the Cassini mission to explore the Saturn system. He works on the tiny craft's Imaging Science Subsystem (ISS) - a visual-light camera that's been sending images of the planet, rings and moons back to Earth - and he's a planning engineer who writes and runs the software that tells the other scientists when they can take their observations based on time, distance from target, and so on. He has degrees in computer science, physics, geology, geo-physics and applied planetary physics from Purdue University, Oakland University, and the University of California at Los Angeles. (UCLA).
Boffinry aside, he has military creds: he was targeting a career as a US Navy pilot, and he was a member of the Navy's Recruit Training Command (RTC) until a knee injury grounded him. What Grazier didn't know, he soaked up through events like a day-long look around the carrier USS Constellation, now decommissioned, in preparation for BSG.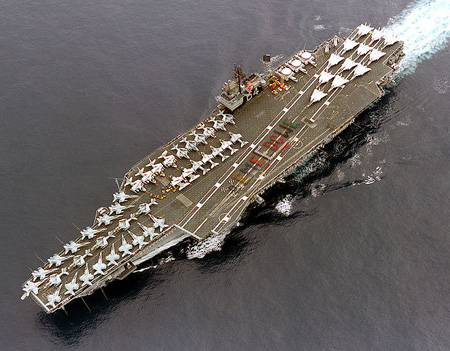 The USS Constellation: a role model for today's Galactica
This explains Galactica's decidedly military feel - a world away from the camp 1970s romp. Pilots of the Viper fighters launching from Galactica went through a pre-launch checklist rather than simply jumping in their cockpits and hitting "go" as per Glen A. Larson's original. Galactica has marines onboard, not just the buccaneering pilots of the 70s series. And Galactica's bridge crew drops terms like CBDR to describe incoming Cylon attack vessels - CBDR means Constant Bearing Decreasing Range, naval shorthand to describe a collision course. "Next day [after one particular episode] I'm on the phone talking to may dad in Pennsylvania, and he says: 'So, CBDR - that you?' And I say: 'Yes'. He's an old navy guy," Grazier admits with a sly smile on his face.
Such references were vital to keeping BSG's technology touchable and keeping viewers absorbed. "We wanted reality," Grazier says. "The average audience member wants to think he's watching life aboard an aircraft carrier - until you see the Cylons."
Why was Galactica so militarized? "It had to be," Grazier replies. "You're on an aircraft carrier in space. I think the way the military people were portrayed was brilliant - because they weren't propagandist heroes. They weren't baby-killing mercenaries. They had a job to do."
Any decent sci-fi involves some form of faster-than-light travel and Galactica was no exception to this convention - it just stood out with its execution. Grazier's fingerprints are all over Galactica's propulsion system: Faster-Than-Light (FTL).
We're gonna need more power
Nasa's man faced some constraints in coming up with the system, which is explored in his book. Galactica had to use a vernacular that was familiar to the audience, and there had to be a visual aspect. But from there, BSG departed from tradition. Play your BSG DVDs, and you'll notice how you're never actually onboard Galactica during a jump, as opposed to being on the deck of the Enterprise during warp speed flight or crammed in next to a Wookie while traveling through hyperspace in the Millennium Falcon. All you see is Galactica disappear and reappear with a startling burst.
It was Moore who laid down the concept of a warp-drive-like folding of space, with the ship simply punching a hole through from one side to the next. It was Grazier who filled in the details, supplied at short notice after one coffee-filled night pacing a hotel room.
Grazier envisioned a mechanical component and large capacitors. He tried to explain the concept of spinning up the FTL drive - "spin up the FTL" is a phrase used by crew that's a series of calculations and steps taken in the countdown to jumping - and the special effects of the light involved. The component-and-capacitors part is important, because they're what Chief Tyrol proceeds to rip out to prevent one particular episode's FTL jump.
In his book, Grazier explains how FTL's folding of space might work versus Star Trek's warping or Star Wars' hyperspace. He also explores what might drive Galactica's sub-light engine, discounting liquid fuels, Ion and nuclear, and determining Galactica would need something twice as powerful as the most powerful rocket fuel on Earth: Ammonium Perchlorate Composite Propellant used in the Space Shuttle's solid-rocket boosters.
Sponsored: How to Process, Wrangle, Analyze and Visualize your Data with Three Complementary Tools