Semi sales leap 26% from 2009
Future uncertain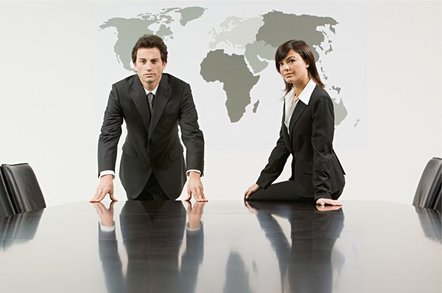 Global chip sales hit $26.5bn in September, according to the Semiconductor Industry Association, a gain of 2.9 per cent compared to the prior month and up 26.2 per cent compared to a year ago.
The SIA has not updated its annual forecast for chip sales in 2010, but says it will do so later this week.
The association does three-month rolling average of global chip sales, which it says is the best way to calculate the overall health of the semiconductor industry, and the September figures cited above are such an average.
The bulk of the sales done in September were in the Asia/Pacific region, as you might expect given that so much of the computing, networking, and consumer electronics equipment used in the world is made there. Companies in the Asia/Pacific region bought some $14.14bn in chips, and increase of 3.2 per cent sequentially from August and up 26.1 per cent from the year-ago quarter. Sales in the Americas region rose just a half point sequentially, to $4.86bn, which nonetheless worked out to a 39.5 percent bump compared to a year ago when the recession was killing the electronics and IT businesses in the Americas.
Europe chewed through $3.26bn in chips, up 24.4 per cent from the levels in September 2009 and up a healthier 3.9 per cent compared to August. Japan even did better, with $4.2bn in chip sales, an increase of 3.7 per cent sequentially and up 15.4 per cent annually.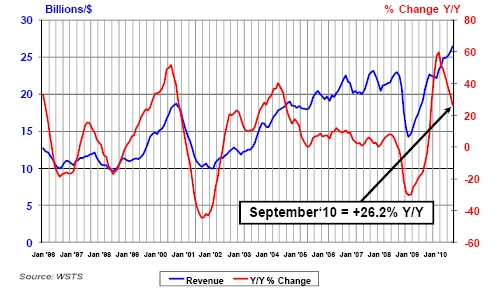 Worldwide monthly chip sales and growth (Semiconductor Industry Association)
"Semiconductor sales have grown steadily in all regions through the third quarter of 2010, with strong demand in consumer and industrial electronic products," said Brian Toohey, president of the SIA, in a statement. "Inventory for the industry continues to be generally in balance with demand. We could see moderation in the growth rate through the end of the year as demand for consumer electronic products such as personal computers, flat panel televisions, and mobile devices are potentially impacted by continuing economic uncertainty." ®