SGI shrinks red ink with super sales
One day, profits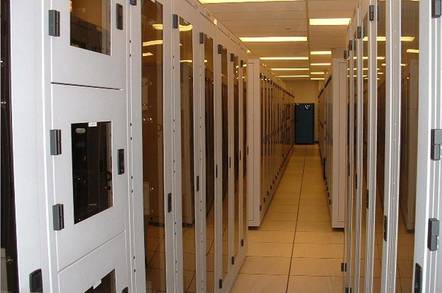 If you are in the supercomputer business, you can't get hung up on quarterly results because it is a low-volume business with high-ticket items and that makes revenues and profits choppy. You also need to have some cash on hand to pay for parts, build systems, and ship them to customers while you await acceptance from them before you can send your invoice and get paid. This ain't like selling a $2,500 tin box through the channel.
With Silicon Graphics ramping up its Altix UV Xeon 7500-based shared memory supercomputers, you would expect some choppiness in the financials, and that has certainly been the case in the past few quarters. But in the first quarter of fiscal 2011 ended in September, the financial waters started to calm a bit, getting SGI closer to its goal of breakeven this fiscal year and profitability beyond that.
In fiscal Q1, SGI's revenues were up 12.8 per cent, to $112.9m, and the company's net loss shrunk by57.5 per cent to $11.2m in red ink. That's down from a loss of $27.7m in the final quarter of fiscal 2010 ended in June, when the company booked $101.6m in sales.
Mark Barrenechea, SGI's chief executive officer, said in a call with Wall Street analysts that the quarter was balanced in terms of industries in which SGI sold products into, product mix, and direct versus channel sales, and that the company shipped 49 Altix UV supers in the quarter, up from 14 in the prior period. SGI did not break out revenue figures for the Altix UV machines separately, but Barrenechea said that the "initial feedback has just been stellar" for the supers, which replaced the company's Itanium-Linux Altix 4700s this year.
SGI has high hopes for the Altix UVs and has recently ported Oracle's 11g database to the machines. Barrenechea said that SGI would be porting other operating systems to the Altix UV platform and then other databases and application software to widen the appeal of the machines beyond the core HPC market that SGI was chasing with the Altix 4700s. Yes, I know you remember that SGI, before it was eaten by Rackable Systems, was pitching the Altix 4700s as a database server and a Java application server, so this is not a new idea. Perhaps it will work this time, though, because the combination of Rackable and SGI is big enough to get the interest of operating system and application software makers.
Jim Wheat, SGI's chief financial officer, said that it typically takes 30 to 90 days to get acceptance on an Altix UV system, and that of the $42m in cash that SGI burned in the quarter, $32.3m of that was used up buying parts to build Altix UV supers.
Barrenechea said that the Altix UV machines, which made their debut at the SC09 supercomputing conference last November and which started shipping in June, had "very good revenue" and a strong sales pipeline and backlog of orders. "I really can't imagine a better first full quarter for a product," said Barrenechea in the call.
SGI sells lots of other kinds of racks and blades to customers, of course. Amazon has a five-year partnership with the company (which started with Rackable Systems and which put them on the map, really) for custom servers, and in the quarter, the online retailer and cloud computing juggernaut accounted for more than 10 per cent of revenues. And for the first time, according to Barrenechea, the US federal government collectively accounted for more than 10 per cent of sales.
Public sector customers the world over drove 62 per cent of SGI's revenues in the quarter, while cloud/Internet customers drove 16 per cent. Telecommunications companies accounted for 3 per cent of sales, manufacturing companies 3 per cent, and oil and gas exploration companies 2 per cent. The rest were scattered among other industries, with medical research getting the first traction in many years for SGI.
About 28 per cent of SGI's revenues came through its channel partners in Q1 of 2011, and international customers (meaning those outside of the United States) drove 26 per cent of revenues. These figures are for non-GAAP revenues, which are larger than booked revenues in that they include machines shipped but not yet accepted. In fiscal Q1, SGI had $130.3m in non-GAAP revenues and only lost 6 cents per share, compared to $112.9m in GAAP revenues and a loss of 37 cents per share.
Wheat affirmed SGI's guidance for fiscal 2011, saying that the company would post $550m to $575m in sales, with gross margins on the order of 27 to 30 per cent and earnings per share coming in at break even. SGI expects to boost revenues by 5 to 10 per cent per year in fiscal 2012 and 2013, expanding gross margins by a point or so per year and flipping over to black ink in fiscal 2012 and staying there in fiscal 2013. As was the case when SGI reported its annual financial results back in June, both Barrenechea and Wheat were at pains to call this SGI's "internal plan" and "not guidance," but if SGI misses these numbers, you can bet some lawyer somewhere will start a shareholder lawsuit claiming that SGI knew everyone would use it as guidance nonetheless.
SGI exited the quarter with $88.2m in cash and equivalents and no debts, and Wheat said he expected for SGI to grow its cash pile for the remainder of the year - and quickly added that this was not guidance. ®
Sponsored: How to get more from MicroStrategy by optimising your data stack