Nuke lab gets visual with GPU cluster
The yummy mummy of workstations
Double shift super
The Edge CPU-GPU hybrid cluster will have two different jobs at LLNL. First, it will be used to chew through the massive data sets generated by the big supers at the nuke lab to try to figure out what parts of the data sets to turn into visual representations so human beings can turn their eyes and frontal lobes on it and try to make some sense of the data.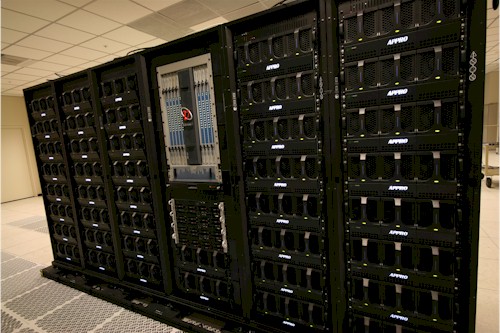 The LLNL Edge cluster: the mother of all workstations
The Edge cluster, says Springmeyer, will also be used to help LLNL coders see how well or poorly their applications take to the CUDA programming environment for Tesla GPU co-processors. "What's really important is to see how these applications will be port to these new machines," she says.
LLNL already has a data analysis and visualization cluster called Graph that is used for classified government projects. The Graph cluster, says Springmeyer, is much larger in terms of server node and CPU core count, but it does not have GPUs to try to goose its performance with cheap flops. On the outside of the spook firewall, LLNL runs another viz cluster that has about half as much oomph as the Edge box, which researchers working on various projects can stand in line and get access to. The big supers like Sequoia are used for public projects as they are burned in, and then they disappear behind the wall of secrecy. Edge will stay on this side of the wall.
LLNL did not have the precise price for the machine, but said it was on the order of $4m to $5m. ®