Help me...
There are other things though; mainly the collection of Billy puppets and puzzle pieces, but that just involves more of the same quandaries and becomes very tedious after an hour or so. The linearity to each level means you'll never need to use the map and getting lost in the dark doesn't last long. The game continues for what feels an eternity though, repeating the same tasks followed by the same cut-scene's each time you snag a QTE trap. Help me.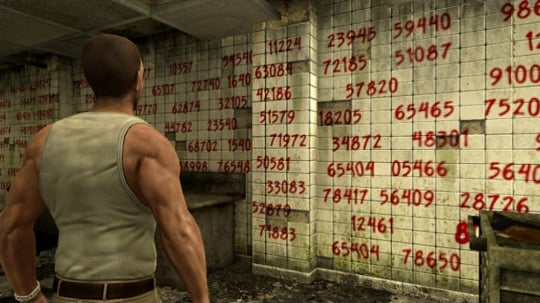 The writing's on the wall. That's numberwang!
When you move through Jigsaw's workshop (How bloody big is this place?) and piece together more of the story's background through scattered audio tapes and characters freed from traps, you soon realise none of it was worth it. All the people you encounter are either ungrateful you've saved them or will try to kill you.
Unpopular in the original Saw game, combat had to be altered, but now seems worse. Quick Time Events may work on occasion but seriously bore after repeated application, and there are more of them in Saw II than there are bloodstained walls. It would make sense if it was a kids' title, but given the nature of the game, surely Konami can't be aiming for such a generation?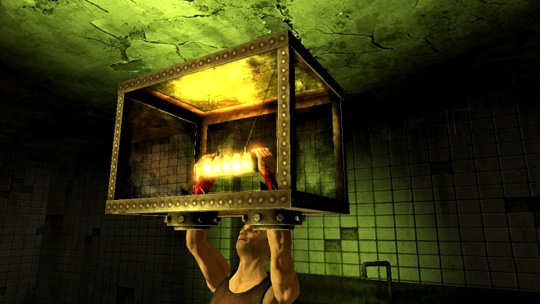 Hands up! Oh, you have no choice
Verdict
Saw II: Flesh & Blood is definitely one to avoid. The gameplay is tedious, the puzzles irritate, the atmosphere isn't particularly chilling and the plot has more holes than a Polo factory. There are alternate endings, two in fact, but I'll be damned if I'm starting the game again in order to find out what they are. Why can't you just replay the final 5 minutes? With Saw 3D rumoured to be the last in the series, hopefully we wont see another cash-in version of the game as Saw II: Flesh & Blood certainly doesn't cut it. ®
More Games Reviews

Fable III
Vanquish
Fallout:
New Vegas
Medal of Honour
Sponsored: How to simplify data protection on Amazon Web Services

Saw II: Flesh & Blood
Painfully repetitive gameplay, full of needless gore and time-consuming puzzles. Available on PS3 (tested) and Xbox 360.