'HULC™' robot exoskeleton war-walker suit 'at gen 2.0'
Luxury padded interior offers 'comfort and support'
American developers say they have produced a "next-generation" version of the well-known Human Universal Load Carrier (HULC™) robotic exoskeleton suit for the US Army. The machine is now to be tested in laboratories for resistance to "sand, wind, rain, temperature and humidity".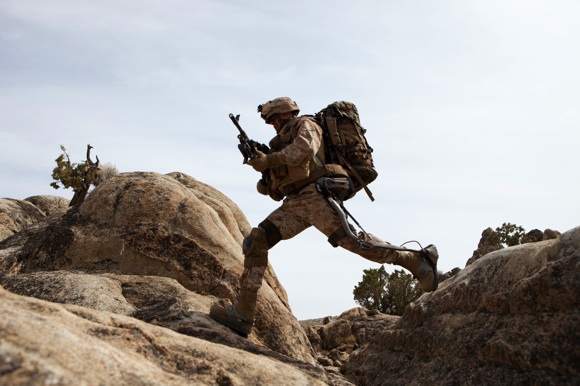 Half a league, half a league, half a league onward to the next charging station
The HULC is basically a set of hydraulically-actuated titanium legs supporting a back frame and powered by li-ion batteries: new in the "second generation" version is the ability to use standard military-issue ones rather than special-for-HULC units.
A wearer of the machine can heave on a huge and heavy pack, or attach over-the-shoulder frames to carry heavy loads in front of himself - for instance a thick armoured shield, or an artillery shell suspended from a lifting strop - and the HULC's structure transmits the load directly to the ground without affecting him. He can walk, jog, even run or drop into a squat as though carrying nothing.
The HULC has been in development for some time, starting at inventor Russdon Angold's firm Berkeley Bionics in California. Then it got bought up by US weaponry goliath Lockheed, and the associated clout soon landed it a test-and-evaluation contract from the US Army's Natick Soldier Systems trials centre. The machine has been put through its paces by the military boffins since, and now Lockheed says that lessons have been learned and improvements made:
The ruggedized HULC system incorporates multiple design changes to increase reliability and performance in operational environments. New environmental sealing and packaging give the system's electronics increased protection from natural elements and battlefield hazards...

The ruggedized structure allows for rapid, repeatable adjustments to the torso and thigh length, without special tools, to better suit a wider variety of users. It also conforms to the body and incorporates lumbar padding for comfort and support. Additionally, the upgraded HULC features improved control software to better track the user's movements.
"The design improvements we implemented on the ruggedized exoskeleton prove our commitment to providing the Warfighter with an innovative solution," says Lockheed war-gadget bigwig Rich Russell.
The greatest weakness of the HULC thus far has been the limited endurance offered by the batteries - though admittedly it would be possible for a HULC-trooper to carry quite a lot of spares. The machine will run flat in less than an hour if the user does any running, however, leading Lockheed to look into fitting it with a fuel cell powerpack.
That said, the rival XOS suit from Raytheon still needs to be plugged in to work, so the HULC is out in front. ®
Sponsored: Webcast: Why you need managed detection and response