Super Micro cranks server sales
Mobo biz climbs again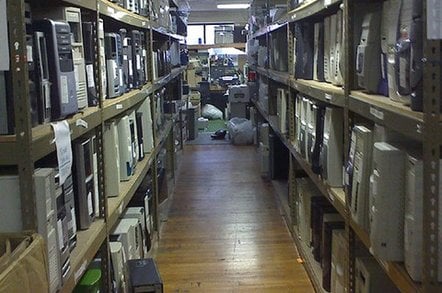 Because Super Micro is a motherboard baker as well as a server maker, it is a bellwhether of sorts for the whitebox server racket. And it looks like business is pretty good, if Super Micro's first quarter of fiscal 2011 is any sign.
In the quarter ended September 30, Super Micro reported sales of $207.2m, up 39.5 per cent and up 2.7 per cent sequentially from the final quarter of fiscal 2010. Charles Liang, Super Micro's president and chief executive officer, said in a conference call with Wall Street analysts that this was a record-high quarter for the company, and represented the sixth straight quarter of revenue growth.. However, the margins are pretty skinny in the mobo and OEM server sectors, so Super Micro was only able to bring $7.2m to the bottom line. But that was an increase of 86.8 per cent compared to the year ago quarter, when the company only had $3.9m in black ink on its financial report.
During the quarter, Super Micro's server business grew by 45 per cent, to $74m (Super Micro rounded this number in its presentation). The Twin family of blade and rack servers were the primary drivers of increased average selling prices for servers, according to Liang. Companies are buying beefier configurations and are particularly interested in the dense-packed servers with GPU co-processors that Super Micro started shipping this year.
The company shipped over 50,000 servers in fiscal Q1, up 35 per cent from the 37,000 units shipped in the year ago quarter. At that time, as we were still coming out of the Great Recession, ASPs for servers sold by Super Micro had dropped to around $1,300. This time around, the average is more like $1,480 a pop - and that is with parts shortages that constrained server shipments.
In fiscal Q1, Super Micro shipped over 950,000 subsystems and accessories, up 45 per cent from the 655,000 shipments for these products (which is mostly motherboards) a year ago. All told, subsystems revenues were $133m, up 37 per cent.
Last year, Super Micro has opened up design and manufacturing operations in Europe (in the Netherlands) and Asia to pursue business locally, and these operations will help its gross margins because the company is not shipping boxes and parts all over the globe from its California factory, but doing shorter hops in the three major markets where its customers - be they end users or channel partners - are located.
Howard Hideshima, the company's chief financial officer, said in the call that data center and Internet customers buying systems accounted for 7.6 per cent of total sales, and channel partners buying servers and parts drove 60.2 per cent of revenues.
Looking ahead to fiscal Q2 ending in December, Hideshima said to expect Super Micro to rake in between $220m and $230m and that non-GAAP earnings per share will be in the range of 23 to 27 cents. On a non-GAAP basis, 22 cents of EPS came to the bottom line in the quarter just ended. ®