Google streaming search in 'Instant revenue boost'
Dollars grow 2% in two weeks, says study
Google's search revenues increased almost 2 per cent in the two weeks following the introduction of its Instant search engine, according to an independent study.
Marin Software — an outfit that manages $1.3 billion a year on behalf of search engine advertisers — has released a study based on the recent Google experience of "a broad range" of clients, and it shows that as Google Instant juiced ad impressions and, yes, paid clicks, advertiser spending climbed 1.96 per cent in the two weeks after the service was launched.
Google Instant serves up search-results pages as you type, trying to predict what you're looking for. Basically, it's an extension of Google Suggest. Whereas Suggest suggested possible searches, Instant suggests entire results pages. In certain countries, Google Instant is now the default search engine if you're signed into a Google account — though you do have the power to turn it off.
According to Marin's report, Google ad impressions increased 9.31 per cent in the two weeks following Instant's September 8 launch. Marin senior product marketing manager Gagan Kanwar tells The Register that Marin's data came directly from Google AdWords, so these are impressions as Google now defines them. Because Instant refreshes results so quickly — a new page may appear with each letter you type — Google says that a results page is only considered an impression if stays there for three seconds or if the user hits the search button or actually clicks on a search suggestion or a link.
As impressions rose, according to the Marin report, paid clicks also increased — which only stands to reason. "As impressions go up, it's not entirely unnatural for clicks to go up," Kanwar says. With impressions up 9.31 per cent, Marin saw a 5.63 per cent jump in the number of times users actually clicked on an ad. So, clicks didn't grow as much as impressions, but they grew nonetheless.
This also shows that Google's revenue didn't grow as much as clicks. The average cost-per-click rate, according to Marin, dropped by 3.47 per cent.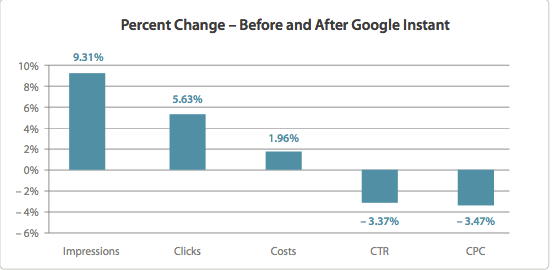 Marin argues that "advertisers are now getting more value for their money as a result of Google Instant." But this is somewhat misleading. Google advertisers pay for each click, but a click may not actually lead to anything worthwhile. "We don't know how conversions changed during this time," says Kanwar. And the drop in cost-per-click is likely temporary.
Kanwar argues that because of the increase in clicks, daily advertiser budgets reach their limits sooner, reducing the amount of competition on many keyword auctions. This, in turn, would lead to a price drop. "One hypothesis is that most advertisers in this period...did not increase their daily budget even though click volumes were going up," he says. "This created a scenario in the auction where advertisers depleted their budgets faster than normal. So subsequent auctions had a lower degree of competition leading to low [cost per click]."
Kanwar also says that according to Marin's data, Google Instant has lead to an increase in the impressions for ads that require an "exact" or "phrase" match, and this may have driven down cost per click as well.
With an exact match, an ad won't appear unless you provide a keyword character-for-character — and nothing else. Phrase match also requires character-for-character entry, but the ad will still appear if you tack on a few extra words. Exact and phrases matches may have risen, Kanwar speculates, because Google Instant seems to increase the number of impressions based on short keywords and phrases. This, in turn, may have driven down the cost per click because exact and phrase match ads are traditionally cheaper.
But the daily-budget hypothesis seems the more likely of the two. And this effect will likely disappear over time. "As advertsers adjust and increase daily budgets, cost per click will reach pre-Instant levels and ad costs will rise higher," Kanwar says.
Sponsored: Detecting cyber attacks as a small to medium business