BBC-led RadioPlayer may spark radio revival
A modest start, but doing it right
A new RadioPlayer for the UK could be the start of the biggest change in radio listening since Marconi. Essentially, it's YouView for radio.
It's a very modest-looking start, but RadioPlayer will bring time-shifting features such as catch-up and pause - as well as familiar names and a selection of internet radio stations from around the world - to a console.
First announced by BBC audio and music director Tim Davie 18 months ago, RadioPlayer is merely a web console for now, but is actually a lot more. A parallel initiative called Radio Plus may see the BBC sharing technology such as open APIs to allow third party manufacturers, content companies and advertisers access to the functionality. So the RadioPlayer standard would be embedded into all kinds of devices, or run as an app on other devices.
The first incarnation was unveiled this week - and the wall around this garden turns out to be not so impenetrable, and really quite porous. It's set to be, as Global's Nick Piggott suggests, the "Google for radio." The service starts in December, with 50 stations. Full commercial launch is scheduled for next February, with 150 more stations joining. Eventually it will be 400.
Given what is a very modest-looking console demo, it's easy to overlook the significance of this. Doesn't the iPlayer do BBC radio already? (A.Yes). Aren't there apps that give you a wide selection of radio stations (A.Yes). Can't you get a wider choice from third party services such as Radeo? (A.Of course you can.)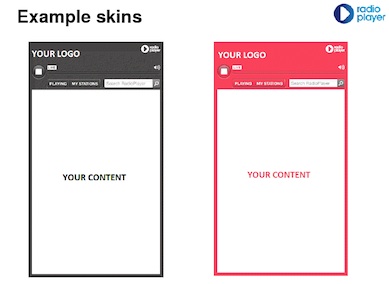 The comparisons with YouView (formerly Project Canvas) are quite interesting. With RadioPlayer, the base UI specification is a skeleton - each participating station can skin the player for branding purposes, so when playing (say) Classic FM, it looks like a Classic FM app. They can bring their own advertising. While the BBC insists iPlayer branding is prominent, there's no such requirement for RadioPlayer. Third parties must pay to join, but it reflects their turnover - and this represents a genuine desire to have a broad selection of stations.
By keeping the open specifications simple and open, it could well set a global standard.
There's no mandate on minimum bitrates, but the BBC this week also announced "HD Sound", which has higher quality streams in 320kbit/s. That's about twice what DAB can currently muster, given the old codecs in use, and the spectrum squeeze here in the UK. The BBC says if tests go well, HD Sound will be incorporated into RadioPlayer in February.
Here's a video introduction, and the (appropriately sparse) website can be found here.
Sponsored: Your Guide to Becoming Truly Data-Driven with Unrivalled Data Analytics Performance