Dell takes aim at Apple with upmarket pledge
Never mind the prices, feel the screen width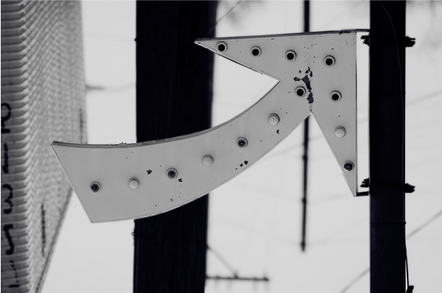 Dell will spend "hundreds of millions" to upscale its image and stop majoring on its cheapness, after years of slithering down the brand pole.
If that wasn't ambitious enough, the PC vendor has trained its sights on Apple, accusing it of dictating to customers.
The direct PC vendor's chief marketing officer for consumer and SME, Paul-Henri Ferrand, was speaking to Reuters ahead of an expected product splurge next week.
He told Reuters that Dell would stop mentioning price as the "single most important aspect" to its product range, and would emphasise its premium products. The upcoming product launch apparently includes a laptop that converts into a ten-inch tablet and portables with premium JBL speakers.
Meanwhile, Consumer and SME president Steve Felice hit back at Steve Jobs' recent pronouncement that seven-inch tablets are "DOA", saying the firm was attempting to dictate to customers rather than listen to them.
"We're at the opposite end of the spectrum, emphasizing customer choice," he told Reuters. "It's a bit premature to tell customers what they're going to like and what they don't like."
Which sounds like there's a pile of seven-inch screens lying around in Round Rock Texas waiting to be turned into consumer choices.
Either way, the pressure is certainly on Dell to upscale its image, after years of, if not decline, certainly stagnation. It has held its own in some enterprise markets, notably data centers.
But the vendor long ago surrendered its spot at the top of the PC pile to HP, while Acer has been snapping away at the low-end and Apple has been steadily cleaning up among the most style-conscious and deep-pocketed customers.
Added to this, Dell has been forced to settle lawsuits claiming that it knowingly peddled crap systems and that its stunning run of fiscal success in the early part of this decade were as much down to subsidies from Intel as the success of its legendary model.
This all seems a bit sad to those of us with very long memories. There was a time when as well as being cheap - not neccessarily a bad thing - Dell was regarded as being innovative if only on customer service and configuration.
Perhaps tellingly, company founder Michael Dell was not mentioned in Reuters' story. Which must hurt a bit when your name's still over the door. ®
Sponsored: Minds Mastering Machines - Call for papers now open