Legal P2P venture fails
Singers wouldn't join the Choruss
Why did it fail?
Collective licensing looks a quick, easy fix to the problem of file sharing. But the devil's in the detail, and the idea had plenty of critics. A blanket deal may set the price too low, so everybody loses. And while voluntary agreements create market incentives for both tech companies and rights-holders, it's hard to bring everyone to the table. Other critics denounced it as a music tax - as participation appeared to be compulsory.
More effective criticism came from inside the music business itself. Some were concerned that it undervalued the music, and it would fail to reflect the value music lovers place on the music. Others were concerned by lack of transparency. This reflected traditional suspicions between publishers and master recordings owners, with composers refusing a seat at the table.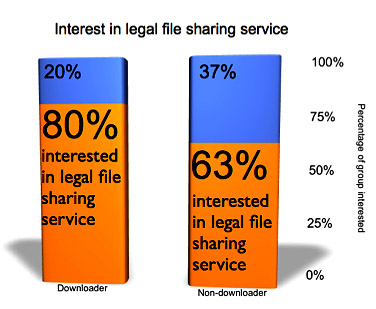 A 2008 survey of UK consumers found strong interest in paying for P2P file sharing

Ironically, Griffin is now pursuing the same path trodden by the original Napster founders, who also failed to get licences for the service, and instead moved into infrastructure. After Napster, Shawn Fanning started Snocap, which would provide a B2B infrastructure for other Napsters, in effect, providing such services as song identification and royalty distribution. Today Griffin says he's working on a global rights database - another useful piece of infrastructure.
And he thinks government intervention, possibly in the form of a collective licence imposed from above, is the only way to bring bickering parties to the table. ®