Digital Stream DHR8203U Freeview HD DVR
Going with the flow?
Review Digital Stream is not a name that many people will be familiar with when it comes to PVRs – but that's not necessarily a bad thing; few had heard of Topfield or Humax before their very successful Freeview models appeared in the UK.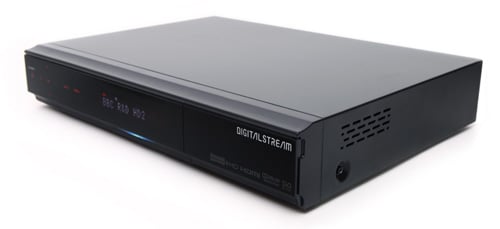 Fluid design? Digital Stream's DHR8203U
The Digital Stream DHR8203U is about the same size as Topfield's TF5800, with a sleek front panel that has a matrix display and touch sensitive controls, which light up when the unit's turned on. A flap at the right hand side covers two CI bays, and a USB port A.
The rear panel sports twin Scarts, HDMI, composite and analogue audio outputs, together with optical audio out, Ethernet and a further two USB A connectors, for external hard drives. There's also a fan outlet – which is fairly quiet in operation. As you'd expect in a decent sized box, the power supply is built in. The DHR8203U has a 320GB hard drive, while the 8205U is identical, except for a 500GB drive and a £20 price bump.
Personally, I found the buttons on the remote a bit on the small side, especially the Media button, which gives access to the recorded programmes, and the remote doesn't exactly exude quality either, alas. It's also worth mentioning that, frankly, operating the unit using the front panel controls is a chore, especially as there doesn't seem to be a 'repeat' when buttons are held down.
In use, the interface is ok; it's not as slick as, say, the i-Can EasyHD receiver, but at least it looks like it's been designed in the last couple of years, with clear colours and a consistency to the dialogue boxes. There are some minor annoyances, though – find a programme in the EPG and press the record button on the remote, and you'll just set a single recording. If you want to set up a series recording, you press the OK button instead, then choose between single and series.

USB interfacing supports external drives and the unit will replay other media
And, to access quite a few functions you have to press the white function button on the remote, then pick from a menu – which may itself have submenus before you get to the option you want. For example, the direct jump function allows you to go to a specific time in a recording, but requires several key presses before you can even enter the time.
Sponsored: Detecting cyber attacks as a small to medium business