Sony uncloaks first Google TV television
Chrome and Android sans settop
Sony has unveiled the first HD television based on Google TV, the search giant's fledgling effort to marry broadcast TV with the interwebs.
The Sony Internet TV is available in 24-inch, 32-inch, 40-inch, and 46-inch models, and prices range from $599.99 to $1,399.99.
Last week, Logitech took the wraps off a $299.99 Google TV settop box, but the Sony has integrated Google's Android-based platform with the television itself. The company has also introduced a $399.99 BluRay disc player based on the platform, which can be used in tandem with existing TVs.
Google TV puts a Chrome web browser atop an Android incarnation that's been ported to a Intel Atom system-on-a-chip designed specifically for consumer electronics devices. The idea is to meld the interwebs with your television, offering a single interface for organising, searching and viewing broadcast TV - as well as stuff across the net. "It's about how to make the web and TV better," Google's Rishi Chandra said when unveiling the service at the company's annual developer conference in San Francisco. "It's where TV meets web, and web meets TV."
The project mirrors Google's original Android project. The company is providing a free, (kinda) open source platform to third-party manufacturers in an effort to expand its online ad empire. As it stands, Google does serve ads into the Google TV interface. The platform merely shows ads you would normally see on the web or on broadcast television, but it stands to reason that the company will one day use the platform as a means of improving its ad targeting. The company has hinted for years that this is its aim.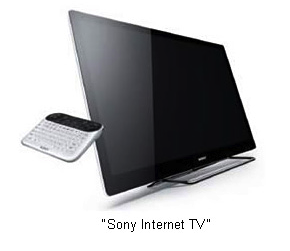 Google TV also runs a select few local applications from third-parties, including CNBC, Napster, NBA, Netflix, Pandora, and Twitter, and early next year, Google will open a version of the Android app market for the platform.
Sony offers an RF mini-keyboard for navigating its TVs and, eventually, you'll also have the option of driving the device via your Android-based smartphone. Sony TVs also connect to DVR settops from satellite television provider Dish Network.
All five Sony devices can now be ordered at the SonyStyle online store and BestBuy retail outlets. They officially ship on 16 October. ®