VMware boost vCloud Director cloud creator
Adds self-service portal, beefs capacity management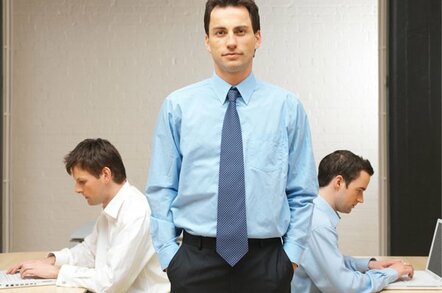 VMworld Europe At its VMworld Europe conference in Copenhagen this week, the server virtualization powerhouse and wannabe cloud seeder VMware rounds out its vCloud Director tool that it announced at the end of August, developed as Project Redwood.
Two different but related add-ons to vCloud Director come out of Copenhagen Tuesday. The first is called Request Manager, a self-service portal add-on for vCloud Director. According to Rob Smoot, director of product marketing at VMware, the cloud builder had a management portal that was aimed at system administrators who set up and babysit hypervisors and their virtual-machine guests. But vCloud Director lacked a true self-service portal that looks like an e-commerce shopping cart — a metaphor that end users are well acquainted with in this consumer-driven economy.
vCloud Request Manager is not just a shopping cart for VMs. It has built-in workflows and multi-step approval processes so end users at companies can requisition VMs and apps inside of them, and IT departments can go through their processes behind the scenes to build and allocate virtual machine guests based on consistent policies and in an automated fashion that removes human error from the initial VM configuration.
Smoot says that vCloud Request Manager defines blueprints for virtual machines and policies to which the vCloud Director adheres, such that machines are provisioned on physical hardware so the VMs meet security, performance, and service-level conditions demanded by end users. You can partition up a cloud based on the service levels and performance for which you need each VM and its apps to have. (This is not logical or virtual partitioning so much as it is controlled pooling, but people are going to call this partitioning as well.)
While vCloud Request Manager was developed mostly to help enterprises that are installing private clouds to manage service levels and allow self-service provisioning of VMs for end users, a number of service providers who are building clouds based on the ESX Server hypervisor, vSphere tool stack, vCenter Server management console, and vCloud Director über-manager are looking at using Request Manager internally to control their hosting and public clouds. Smoot did not name names.
Request Manager also keeps track of software licenses inside of each virtual machine as it flits around the network of servers in the compute pool and ensures that software vendors can be properly compensated if they charge based on the processor core or server socket as workloads expand and contract on a given physical machine. The software licenses are encapsulated into something VMware calls a vApp, and vCloud Request Manager keeps track of how many licenses you have for each element in the vApp and won't allocate a new vApp if you run out of licenses.
vCloud Director, which has been tested while controlling 25 vCenter Server instances and over 10,000 aggregate VMs, begins shipping this week. vCloud Request Manager will not ship until later in the fourth quarter of this year.
Pricing for vCloud Director was not available at launch time back in August, but Smoot now says VMware is charging $150 per VM under management for the add-on to its vSphere 4.1 stack, which in turn will cost as much as $4,369 per socket in the Enterprise Plus license edition and one year of support. That does not include vCenter, which runs another $6,244.
You can see why service providers and cloud builders have loved open source software — but enterprises don't mind shelling out dough for infrastructure software, since the difference between expensive software and cheap software does not have a radical impact on their margins. Moreover, companies will want internal clouds and external public clouds to run the same VMware code, and they will no doubt be willing to pay a premium to cover these costs to those who build ESX Server clouds. That is the bet that VMware is making, at least.
The vCloud Request Manager self-service portal will add another $100 per VM under management to the price list of the VMware cloud stack.
In addition to this self-service portal, VMware is also rolling out Capacity IQ 1.5, a new release of its homegrown capacity-management tool, which is an add-on for its vCenter Server management console. With the 1.5 release, VMware is adding in disk space and disk I/O trending, matching what it can already do to track CPU, memory, and network resources. The graphical dashboard in the Capacity IQ dashboard now has storage views. The workload modeling tools now have storage inputs so "what if" forecasting for future VM use will now show the effect on storage resources. The Capacity IQ 1.5 plug-in can now kick out capacity utilization and optimization reports and automatically email them to managers and other parties that have to pay for capacity used in the internal cloud.
The vCenter Capacity IQ 1.5 plug-in costs $75 per VM under management. It will be available before the end of the fourth quarter, like the vCloud Request Manager portal. ®