Stratus adds Hyper-V virt to fault tolerant servers
A new Westmere-EP box, too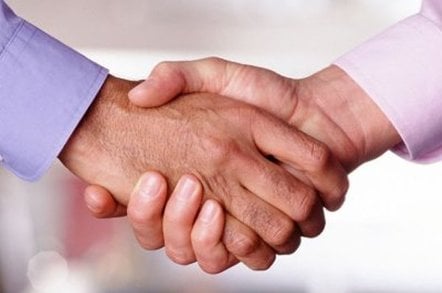 While server virtualisation and live migration give customers flexibility and a certain amount of disaster recovery and high availability, some customers - particularly in financial services and healthcare - still need fault tolerance. And that is why Stratus Technologies still exists.
This is also why the company must support popular x64 hypervisors as well as Windows and Linux operating systems on its ftServer lineup.
Stratus added support for VMware's GSX Server type 2 (or hosted) hypervisor atop Windows or Linux running on its ftServer fully redundant and lockstepped two-socket x64 servers, and in December 2008 added support for the bare-metal ESX Server 3.02 hypervisor. Stratus jumped the ESX 3.5 release but added support for the ESX Server 4.0 hypervisor late last year.
Denny Lane, director of product and marketing management at Stratus, says that the company has the latest ESX Server 4.1 hypervisor support running in the labs, but may wait until the next dot release comes out from VMware. The next dot release is expected next summer, ahead of VMworld, if past trends are any indication of future product releases (VMware hasn't said.)
Back at the end of 2008, Stratus was expecting to get Microsoft's Hyper-V bare-metal hypervisor running on the ftServers perhaps by the end of 2009. A lot depended on when Microsoft got the R2 update of Hyper-V and its related Windows Server 2008 out the door. But it took a bit longer than expected for R2 to get into the field, and Stratus always has a lag in time between when any new piece of software comes out and when it can offer support for it, since it is guaranteeing six nines of availability on its ftServer machines. The software really does have to be ready for primetime before Stratus will allow it onto the box.
While ESX Server is by far the hypervisor of choice for large enterprises on their x64 iron, Microsoft's Hyper-V is gaining traction among small and medium businesses. "The way we read the tea leaves, Microsoft has a very good chance in the SMB space," says Lane. This is why the company has been itching to get support for Hyper-V R2 onto the ftServers.
Stratus is not particularly keen on Red Hat's open source KVM hypervisor at the moment for its ftServers - mainly because customers are not yet asking for it. As for XenServer from Citrix Systems, Stratus has embraced this other open source hypervisor for its Avance clustering technology for virtualised servers (which runs on any normal x64 boxes and which does not require ftServer-style hardware lockstepping). But Lane says there are no plans to support XenServer on the ftServer line at this time.
The reason why Stratus thinks it has a fighting chance with the ftServers is that fault-tolerance clustering is less complicated than the clustering that Microsoft wants Hyper-V shops to deploy. (The same technical and economic arguments apply to ESX Server, too.) If you use Hyper-V, you need to buy two physical servers, two Fibre Channel switches to shared SAN storage, and put into a dedicated network for failover between the two server nodes so applications and their hypervisors can fail over and recover to the backup box. You need to buy Systems Center with virtualisation plug-ins to manage the whole shebang. If you buy the VMware stack, you need to put ESX Server and whatever vSphere add-ons you like on the two boxes, and then buy a vCenter Server management console. All of this costs money, which is bad, but also requires expertise in HA clustering and failover checking.
Stratus thinks that shops that have serious uptime needs but that don't want to deal with clustering will prefer hardware-based fault tolerance. Under this scheme, you buy two mirrored servers and pay a hefty premium for the fault tolerant lockstepping technology. But you manage the dual-machine as if it was a single, standalone machine and you can still use Hyper-V or ESX Server as a container for virtualising software workloads and driving up system utilisation. (And you can also add live migration and snapshotting for another layer of protection if that suits you.) The good news with Hyper-V is that the hypervisor is part of the Windows Server 2008 R2 license, unlike ESX Server, which has a freebie version but which costs from hundreds to thousands of dollars per box depending on the features you want.
The fault tolerant server approach does not require a shared storage area network, either. You can use the mirrored storage in the two-socket servers. If you need more space than that, Stratus also sells a ftScalable storage array, which has mirrored controllers and caches, that packs a dozen 3.5-inch or two dozen 2.5-inch drives and Fibre Channel or SAS links back to the ftServers. Depending on the disk options, this ftScalable storage costs between $13,000 and $14,000. Stratus has been offering its own storage for three years, and now has about a 40 per cent attach rate these days for its external storage on its ftServer machines.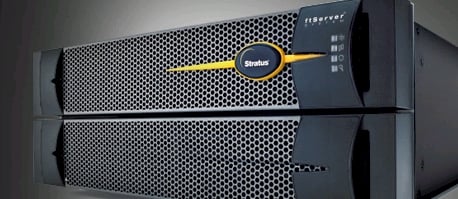 The Stratus fServer 6310: Looks just like the 2500 and 4500 on the outside.
In addition to the support for Hyper-V, Stratus is rolling out a new machine, the ftServer 6310, which has support for Intel's six-core X5670 processors running at 2.93 GHz. This machine, like the ftServer 6300 it replaces, is based on a two-socket machine that supports up to 96GB of main memory using 8GB memory sticks. (Lane says Stratus is waiting for 16GB sticks to come down in price before adding them into its systems.) The ftServer 6310 has four PCI-Express 2.0 slots and offers 10 Gigabit Ethernet links to the outside work through a riser card adapter. A configured ftServer 6310 will cost between $40,000 and $50,000, depending on configuration. Stratus sells less peppy boxes - the single-socket ftServer 2600 and the two-socket ftServer 4500, both based on Intel's earlier quad-core Xeon 5500 series chips - for customers who don't need this much oomph.
You may recall that Stratus was looking at a four-socket Xeon design a few years back, ahead of the Xeon 7500 launch, but for the workloads that Stratus is targeting, the company figured that the certification and testing costs that such a bigger box would require would not be supported profitably by the expected revenue streams from fatter machines. And thus the project was mothballed, according to Lane. With core counts growing fast in two-socket boxes, Stratus customers can get more performance this way in a fairly predictable fashion. It looks like about 50 per cent more x64 cores per generation in the past few years, although it is debatable how long Intel and Advanced Micro Devices can keep doing this. ®
Sponsored: Practical tips for Office 365 tenant-to-tenant migration