One For All SV9380 Freeview HD indoor aerial
Well received?
Review Most indoor aerials are priced between £10 and £20 but the One For All SV9380 is a different beast to most indoor aerials, selling for between £40 and £50. Whatever you pay, this boy needs to really deliver to justify its premium price. The first note of caution is that the packaging boasts of Full HD compatibility, a spurious claim given that there are no Full HD broadcasts, nor likely to be. But then if it can cope with Full HD it shouldn't have any problems with standard definition or 1080i signals either.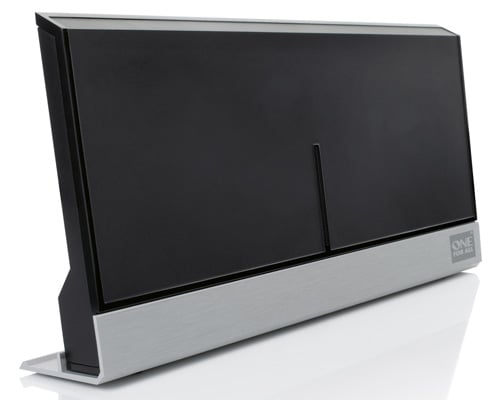 Fiddler off the roof: One For All's SV9380
Signal strength is paramount with DTV signals, which are a lot less forgiving than analogue where a weak signal can still result in an acceptable picture, albeit maybe one with snow, banding, ghosting or colour problems. If a digital signal is weak the receiver might not lock on to some, or all, channels or it may freeze or block. To check if the SV9380 will even work in your area One For All's online transmitter map should be consulted prior to purchase.
The aerial itself takes an unusual form factor featuring a slab design that funnily enough matches Sony's latest monolithic Bravia TVs. Measuring 280mm wide by 138mm tall and encased in a sturdy plastic housing with a brushed aluminium stand, it boasts a level of finish not normally found in the typically low-rent world of indoor aerials.
There are two sockets on the back, one is a gold-plated RF output and the other is the 12V power socket. A UK mains adapter is provided and usefully for caravaning types, the aerial can run off a car battery. A 150cm co-axial aerial cable with gold-plated male plugs completes the bling-fest.
Whilst most aerials require positioning in either the horizontal or vertical plane (depending on whether your signal comes from a main or relay transmitter) the SV9380 is designed to pick-up both. In other words you can simply plonk it down on a tabletop and swivel it round to maximise signal pick-up. Dual Patch technology is used, which ensures maximum reception for higher density information streams including DVB-T2 transmissions.
By utilising a differential mode in the two antenna plates, unwanted reflections are diminished. This approach should also ensure stable load and gain across the entire frequency spectrum to minimise echo and reflection between antenna and receiver.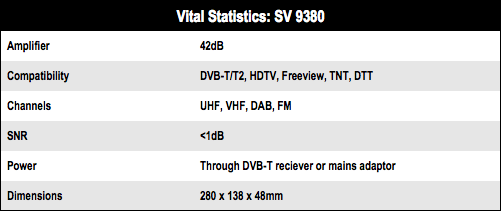 Sponsored: Practical tips for Office 365 tenant-to-tenant migration