Microsoft shows Venue Pro smartphone for Dell
Only WinPho 7 handset with microkeyboard
Say hello to the Dell Venue Pro, and oddly named handset but one the PC giant hopes will win it business thanks to the slide down BlackBerry-style Qwerty microkeyboard.
Of all the vendors directly or indirectly participatign in the Windows Phone 7 launch - to Dell's name add HTC, Samsung, LG and... er... that's it - Dell was the least vociferous, not even making any announcement as the the handset's specs.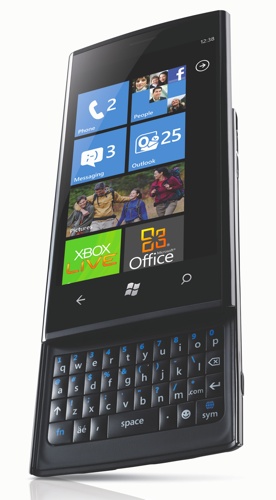 MS' hardware rules insist upon a separate camera key, at least 8GB of on-board storage, no memory cards, a dedicated Back button, 480 x 800 display, and a 1GHz processor, so we can add those to the list. None of the other handsets we've seen had sub-5Mp cameras, so that's probably a minimum we can attribute to the Venue Pro too.
Yes, the name is silly, and with the keyboard extended the Dell phone looks oddly long.
No UK network has committed itself to the Venue Pro. Dell's Streak partner, O2, appears to be focusing on the HTC 7 HD. So presumably it'll sell Sim free. ®
Sponsored: Webcast: Build the next generation of your business in the public cloud