Google is struggling to keep up with the Hibernian moons plaguing its Street View Ireland service.
Last Friday we reported how the Irish Times had uncovered a brace of of buttock jiggling jackeens in Dublin, prompting Google to quickly apply its vanishing cream to the offending buttocks.
No sooner had they managed that than another popped up just a few streets away.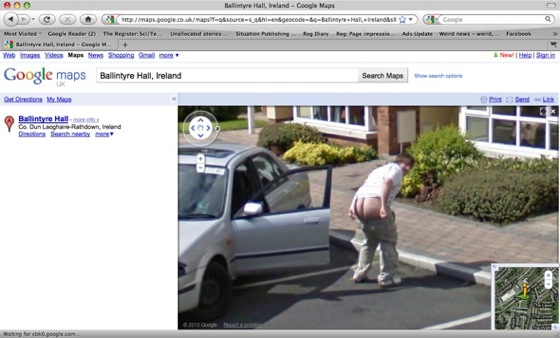 So far, this one is one cheek ahead of Google's censorship squad, though it should only be a matter of time beyond he is remotely smudged from Mountain View.
Sharp-eyed readers may think this bottom looks a a little familiar. Of course, in Ireland you're never far away from a cousin or six - at least not in our experience.
However, we're guessing this rogue buttockeer is one of the pair we exposed on Friday, suggesting he's a serial Google stalker and mooner.
The question is, has he gone beyond the pale? We'll have to wait for eager readers to scour the rest of the Republic to find out. ®
Sponsored: Webcast: Simplify data protection on AWS