Acer Aspire 5940G 15.6in notebook
Media takeout
Review If you're after a well-crafted machine, adorned with a range of features from a media controlling touch panel to the old favourites eSATA and ExpressCard/54, then Acer's Aspire 5940G could well fit the bill. There's even a fingerprint reader, a 4-pin FireWire 400 port and a whopping sub-woofer.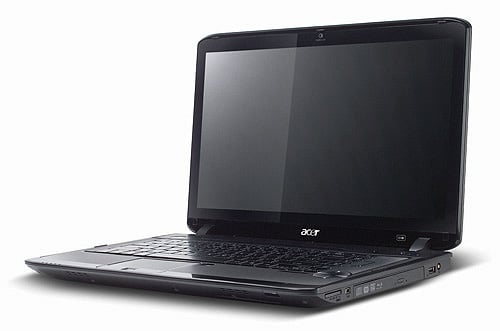 Home entertainer: Acer's Aspire 5940G
Being a 15.6in model, the 5940G has a surprisingly large footprint of 382mm x 274mm for this screen size. With a scant 11mm width difference over the likes of Apple's 17in MacBook Pro, one might have expected Acer to ditch the 1366 x 768, 16:9 panel for at least a 1440 x 900 16:10 screen – this is a £1000 laptop, after all.
This is not to say Acer has fitted a bad LCD at all. The colours are vibrant and the glossy finish helps pictures to really stand out. Whilst all this is fairly good for a screen with a pixel density of 100ppi, I found the glossy finish to be too reflective, even with the brightness maxed out. I can touch type just fine, I don't need to see a reflection of my hands in the monitor.
And talking of typing, despite their flat surface, the keys have a good tactile response with reasonable spacing. The presence of the cluster of media controls shows that at least one part of the design team was making good use of the 5940G's large frame.
Underneath all of this, you will find a quad core Intel Core i7 720QM clocked at 1.6GHz, 4GB of DDR3 SDRAM, an ATI Radeon HD 4650 packing 1GB of GDDR5 and one of Toshiba's 500GB MK5055GSX hard disks. The configuration I have here is the AS5940G-724G50MN, the cheapest version weighing in at £999. Its bigger brother swaps the DVD±RW drive for a BD±RW drive in the AS5940G-724G50WN configuration and is about £1300 but, as always, shop around.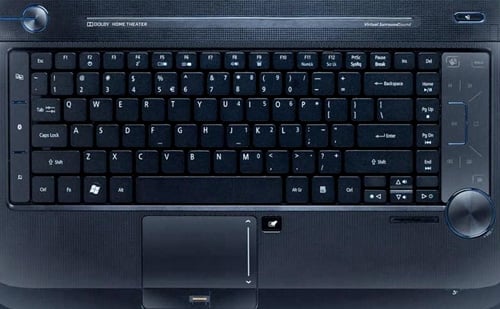 The dedicated media control keys (right) take advantage of the unit's large frame
Of course it's nice to have four cores to carry around with you, but running a mobile CPU with a TDP of 45W comes at a great cost; Acer has only managed to squeeze a maximum of 3 hours of battery life out of the Aspire 5940G. I found that two and a half hours is a pretty realistic battery life with the "Powersmart Mode" enabled. Running PCMark Vantage in standard power mode, the machine held up for an hour and ten minutes.