Buy your own Batmobile
$150k for a caped cruise-aider
The original 1960s Batmobile was the dream car for a generation of superhero fans. Now for $150,000, American company Fiberglass Freaks will build you one.
Officially licensed, the Batcar take six months to build and features a red flashing beacon, a radar screen, a retractable gold coloured Batbeam and a dashboard DVD player - presumably to watch Adam West while you act like him.
For an added touch, the flamethrower effect, caused by the Batmobile's turbine engine has been reproduced with a boot-mounted propane tank.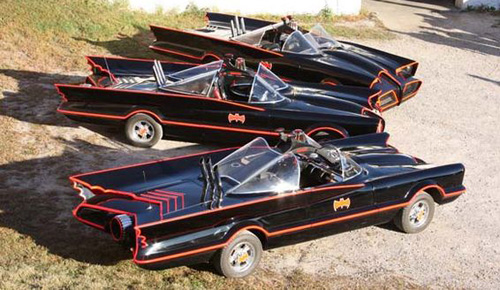 Holy insurance premium, Batman!
The original Lincoln Futura, on which the Batmobile is based, never saw production, but Mark Racop, founder of Fiberglass Freaks, fulfilled his lifelong dream to produce one in 2004 after he picked up a body shell on eBay. This formed the basis for the design.
100 per cent road-legal, the chassis and mechanical parts come from a Lincoln Town Car, while a decorative fibreglass body completes the look.
They don't come with a butler unfortunately, so you'll have to get your own Alfred to do the cleaning.
The license from DC Comics only allows eight cars to be produced per year, and the first is up for auction on eBay. So go on, be a bit batty, get your wallets out, put your pants over your trousers and start to feel like a Superhero.
Pow!
Sponsored: Webcast: Why you need managed detection and response