HP soldiers on without a head
No one follows the Hurd
3PAR for the course
Lesjak also said that HP was not afraid to spend money on acquisitions, as the $2.4bn acquisition of disk array maker 3PAR showed (the deal closed on Monday), and said that even before HP bid on 3PAR, it had a walkway price that was higher than this figure - and laughed and said she would not tell anyone what it was, so don't ask. In the last five years, Lesjak said, HP had spent $31bn on 35 different acquisitions, and that $17bn of those deals were related to hardware and software companies with intellectual property that HP wanted very much to get its hands on. (Like 3PAR, for instance).
Lesjak also talked about the key themes during the Hurd years at HP, which was wringing more efficiencies out of HP's $60bn parts supply chain and getting more operational efficiencies out of the employees and partners that HP has pushing its bits and tin. The company reckons that its sales force and channel currently covers about 50 per cent of what it believes will be a $1.6 trillion total addressable market (TAM, in the Global 2000 lingo) by fiscal 2013, and that for every additional 1 per cent of coverage by its sales force and partners, HP's TAM goes up $16bn.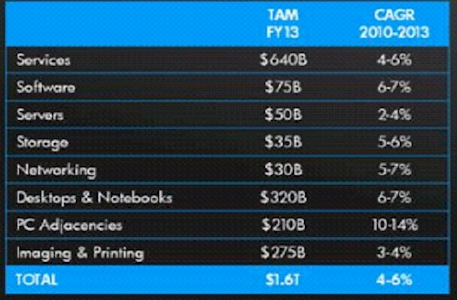 Hewlett-Packard's target markets: It sure do mount up
Hogan said during his presentation later in the day that HP wanted to get better coverage, particularly among its top 2,000 accounts, but would be boosting its sales and marketing headcount across the company by around 10 percent, adding several thousand people to boost its TAM by another $100bn or so. These new sales and marketing people will in some cases be specialists with deep technical or industry knowledge, and they will be added in all three major geographies--North America, EMEA, and Asia/Pacific--as well as in emerging markets. HP is bolstering its "consultative selling" capability, said Hogan, and will also be rewarding sales people who stay put in their accounts because CIOs don't want to break in a new sales rep every 12 to 18 months.
Lesjak walked through the fiscal 2011 projections, and was clearly right at home with the numbers. HP reckons that Personal Systems Group will see revenue growth of between 6 and 8 per cent this coming fiscal year, with an operating margin of 4.5 to 5 per cent. Imaging and Printing Group will see a more modest 3 to 4 per cent revenue growth, but operating margins will be on the juicy 16 to 17 per cent level that keeps HP shareholders mollified. The ESSN hardware business is expected to post revenue growth in the 7 to 9 per cent range and operating margins of between 13.5 and 14.5 per cent, which is a far cry better than five years ago when Hurd took the helm.
HP's services unit (with ESSN separated out from the Enterprise Business behemoth) will see a muted 2 to 4 per cent growth this coming fiscal year, with operating margins on the order of 16 to 17.5 percent. Livermore said that the EDS sales pipeline was not strong when HP took over the company and that it will take some time to build it up. HP's Software group is expected to grow by 5 to 7 per cent, with operating margins coming in at 20 to 22 per cent. HP Financial Services will see the same growth rate, but margins will be in the 7 to 9 per cent range.
When you add it all up, Lesjak said HP would have revenues of between $131.5bn and $133.5bn, an aggregate revenue growth rate across all groups of 5 to 7 per cent above the midpoint of HP's guidance for fiscal 2010. The company's overall operating margin will be 11.6 to 11.8 per cent, with GAAP earnings per share of between $4.35 and $4.45, up 20 to 23 per cent of 2010's expected levels. HP with have free cash flow of around $10bn if it hits those numbers, and has $14.8bn in cash and investments on hand at the moment. HP's net cash is around $4bn if you take out the debt in the HP Financial Services portfolio, so don't think it is sitting in bales of cash. ®