Google shocks world with unthreaded Gmail
Conversation View death switch
Google has shocked the tech world by letting Gmail users "unthread" their inbox — i.e., turn off the tool that was billed as an email revolution when Gmail launched six years ago, but ended up as an infamous annoyance that undoubtedly hampered uptake of the service among all-important business users.
With a Wednesday blog post, Mountain View said that it's rolling out a tool that lets Gmail users toggle "Conversation View" on and off. "We really hoped everyone would learn to love conversation view, but we came to realize that it's just not right for some people," the post reads. "So today we're introducing another valuable choice. Users who prefer a traditional inbox can toggle off conversation view to see email as individual messages in chronological order."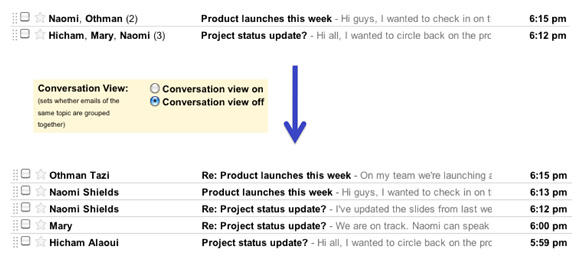 Top, Conversation View on; bottom, Conversation View off
The post says the tool will be rolled out to those using Google Apps, the company's suite of online business applications. And a Google spokeswoman tells us that the feature will be rolled out to standard Gmail users as well.
In other words, if you're using Gmail anywhere in the world, you should have access to the new feature within the next few days. But if you're a Google Apps user, your organization must select the "Enable pre-release features" option in order to use the tool.
"Conversation view is perhaps Gmail's most hotly debated feature," Google says. "Threading enthusiasts say they spend less mental energy drawing connections between related messages and that their inboxes are much less cluttered. On the other hand, email traditionalists like many former Outlook users think conversation just complicates something that has worked for years."
We would add that with threaded Gmail conversations, it's far too easy to miss an important email as it gets tucked in with countless subsequent messages on the same thread.
But those days are over. If you want. ®