No cassette required: ZX Spectrum games on the iPhone
Retro games in 21st century wrapping
Mobile games publisher Elite Systems today announced a bundled release of Sinclair ZX Spectrum games for the iPhone and iPod Touch.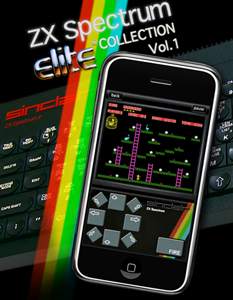 Approved by Apple earlier today, ZX Spectrum: Elite Collection (Vol. 1) is a bundle of officially-licensed games first developed for the popular 8-bit 80s home computer.
The titles feature game-specific play controls, authentic Spectrum sound and the option of landscape and portrait display modes.
Elite is announcing the ZX Spectrum: Elite Collection release date along with a preview video this week on YouTube.
If you can't wait for the taste of nostalgia, you can play many ZX Spectrum games online for free.
Additionally, owners of the intellectual property of ZX Spectrum games can commission Elite to retro-fit their titles for mobile gaming, through an in-app purchase or inclusion in future bundles, or to produce several games into similar bundle packs for self-publication.