Amazon browserizes Kindle book samples
Enlists authors in ebook war
Amazon is calling upon its army of Kindle-based authors to help it in its battle for the eyeballs of the reading public. Its new weapon: Kindle for the Web.
"Kindle for the Web is ... a great way for bloggers and authors to promote books on their websites by letting visitors read a chapter without leaving their site," said Amazon Kindle director Dorothy Nicholls in a Tuesday announcement of the beta service.
It's also a way for prospective book buyers to read the first chapter of a Kindle for the Webbed book without having to download a sample to their Kindle-Kapable device — a gaggle that now includes the Kindle, Kindle 3G, and Kindle DX, along with the iPad, iPod touch, iPhone, Mac, PC, BlackBerry, and Android-based handsets.
"With Kindle for the Web, it's easier than ever for customers to sample Kindle books — there's no downloading or installation required," said Nicholls.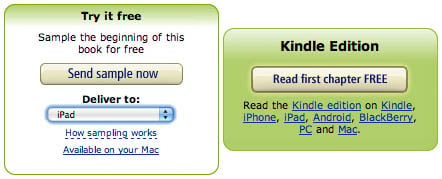 You no longer have to download a sample to your device (left); you can now read it in your browser (right)
If a book is part of the beta service — and our cursory investigation showed that few are — you can simply click on a "Read first chapter FREE" button on that book's Amazon page, and a new, smaller browser window opens with that chapter displayed.
Controls then allow you to expand the window; adjust font size, line spacing, and text-area width; and pick from background colors of white, sepia, and black. A pop-up slider at the bottom of the window moves you forward and back through the chapter; arrows move the text page by page.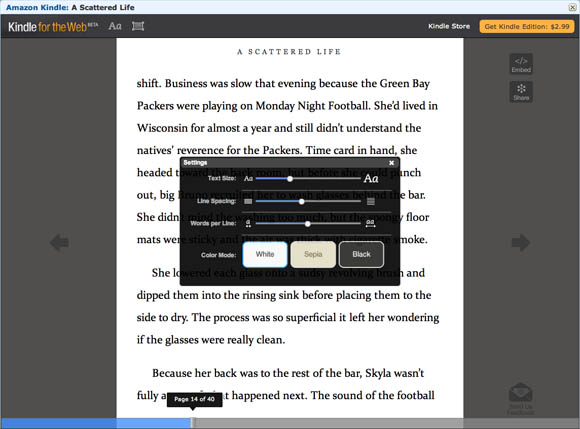 Big or small, wide or thin, tight or loose — your call
A "Share" button give you the option of emailing the book's Amazon-page URL, send it to your Facebook page along with a description of the book, or tweet it. An "Embed" button provides the HTML needed to paste the reader into a web page, à la YouTube, resizing it if you should so desire.
The beauty part for authors is not only the fact that they can use that Embed button to add Kindle for the Web samples to their websites, but that as members of the Amazon Associates Program they can earn referral fees from Amazon when someone buys their book through that embedded link, provided they have added their Associate Tag to the link.
For your enjoyment, we've embedded the Kindle for the Web reader here for an Amazon demo book, but note that we had to shrink it substantially to get it to fit:
As Amazon races against Apple, Barnes & Noble, Sony, Kobo, et al to see who can be first to completely destroy the neighborhood bookstore, Kindle for the Web gives it a leg up: making it easier for authors to promote — and make a bit more cash from — their own books might just prove to be a formidable marketing strategy. ®