Mimecast digs its way into the information bank
Outside the vault box thinking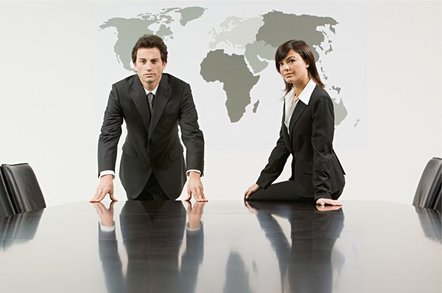 Analysis Mimecast is recasting itself as an information banker and looking for new types of data it could store and new ways to mine the banked information.
The company is a UK-based concern offering e-mail as a service and working to add the storage of unstructured files and SharePoint information to what is an e-mail capture, indexing, search and archive platform offering.
It has a chief scientist, Nathaniel Borenstein, who was hired three months ago and was previously an IBM distinguished engineer. He joined the company to achieve things he couldn't do at IBM. There, the corporate bureaucracy and excessive company size meant that it was virtually impossible co-ordinate all the relevant company resources on topics such as SPAM control. During 2006 he had a meeting set up between IBM and Symantec to discuss an anti-SPAM alliance and found out IBM had bought Symantec's then biggest competitor Internet Security Systems on the day of the meeting, rendering it pointless and embarrassing.
Mimecast, he says, is a company that is fast-growing and past the early start-up phase with its 150 or so employees, yet small enough for left hands to know what right hands are doing.
He owns, or can look at, all the technology not owned by co-founder and Chief Technology Officer Neil Murray. We might say he is licensed to think outside the existing Mimecast box.
It's a truism that information is today's business currency. Borenstein considers Mimecast is like a bank that takes in customer information deposits. He is looking at capturing and storing new types of information on the one hand, and new ways of mining it on the other.
"Archiving e-mail is fixing a big enough pain for customers. Suppose, you could do ... telephony archiving in the same way as email. ... You could run phone messages through voice recognition and transcription processing and get rough voice speech records ... and have them searchable."
Storing voice-over-IP (VOIP) calls would be a little simpler as they are digital when they enter the system. He says: "HPPA data requirements don't generally apply to phone calls because phone record archiving was not thought to be possible when HPPA was conceived."
Borenstein reckons telephony recording might be a good idea for lawyers and finance trading companies: "Lawyers could choose it in advance of regulation." In the finance world regulators might find it very desirable to have a record of all traders' business calls when investigating market irregularities.
He is wondering whether this would be a service worth selling, and thinks it would be a Pandora's box-type thing. Once it was out in the wild you couldn't put it back: "Mobile operators or telcos could make it available and you won't have any say in it."
The water cooler guy
Another thing you could do is mine stored data for new patterns of information, such as discovering the social network connections between employees: "You could use email data to generate social networking maps."
Sponsored: Detecting cyber attacks as a small to medium business