Marvell intros 1.5GHz tri-core ARM chip
Boost for tablets, smartphones
Chip maker Marvell has raised the prospect of faster tablets and smartphones by sampling what it claims is the world's first three-core ARM-based system-on-a-chip clocked at 1.5GHz - 50 per cent higher than today's leading phone CPUs.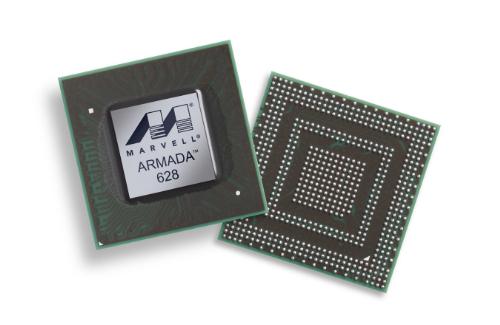 Only two of the Armada 628's three cores run at that speed, though - the third, "low power core" runs at 624MHz. It's the system monitor and handles "routine tasks", firing up the higher-clocked cores when the user does something that requires their horsepower.
The chip also supports 1080p HD playback - for up to ten hours, Marvell claimed - HDMI output and will allow device makers to incorporate USB 3.0 into their products.
It has an on-board 3D engine containing four unified shaders together capable of pumping out 200m triangles per second to two display simultaneously.
There's no word from Marvell when tablets and smartphones based on the 628 will appear, but if the chip's sampling now, expect it to go into volume production late Q1/early Q2 2011. ®
Sponsored: What next after Netezza?