Oracle on Unix biz: We can rebuild it
Solaris 11 – the Steve Austin of OSes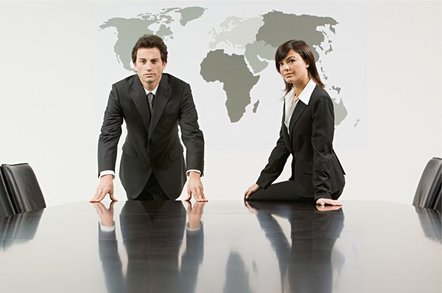 While Oracle's homegrown Linux kernel, new Exalogic Web application clusters, updated Exadata OLTP/BI appliances, and Sparc T3 processors and servers hogged the stage at the OpenWorld event in San Francisco over the past two days, the software giant and new hardware player did find some time to give its upcoming Solaris 11 Unix some love.
And for good reason. As John Fowler, executive vice president of Oracle's Systems and Storage group, reminded the multitudes attending the event and watching from the Web, Solaris has some 50,000 customers worldwide, which is a very large installed base of enterprise customers. (El Reg has also heard that the Sun server base numbered closer to 35,000 customers worldwide.)
Whatever the number, in his keynote address at the OpenWorld event, Fowler wanted to assure everyone that "Solaris is a very serious project at Oracle" and said that the Exalogic middleware clusters, which currently combine Sun x64 servers, WebLogic middleware, the JRockit JVM, and Oracle's highly tuned and homegrown Linux kernel, and the Exadata database/warehouse appliances would be running Solaris 11 Express later this year.
A few minutes later, Mark Hurd, Oracle's new co-president, said the same thing, that Solaris 11 Express, the development release, would be an option on the Exalogic and Exadata appliances. The whole point of Solaris 11 Express is that it is a development release to give customers early access to the code so they can put it through the paces. So it is reasonable to surmise that Oracle is expecting some customers to do proof-of-concept testing on Exalogic and Exadata clusters and then go into production with Solaris 11 further down the road.
Solaris 11 proper is not expected until some vague time next year. That said, Solaris 11 is probably mostly cooked at this point in terms of core features and it is down to drivers and testing. It would not be surprising at all to see Solaris 11 come out early next year, although if the Solaris roadmap shown back in August was drawn to scale, then it should be in the second half of 2011. Thus far, Oracle has said nothing about when Solaris 11 might hit the streets and networks, except "calendar 2011."
Fowler said that the next incarnation of Solaris had a new memory and I/O subsystems so Solaris 11 could scale well beyond its current limits. As El Reg previously reported, is aiming in 2015 to deliver Sparc-based servers that have 128 cores with a monumental 16,384 threads and that will be able to support 64TB of main memory, and host 256 logical domains while running Solaris 11. Such a machine is expected to handle 120 million TPMs on OLTP workloads - forty times that of the Sparc T3 machine announced today - and do 50,000 Java operations per second - about ten times a Sparc T3 box.
In the preview that Oracle gave at OpenWorld, the company said that Solaris 11 would be comprised of 2,700 different projects and would be the result of 20 million person-hours of development effort and be put through more than 60 million hours of testing. Solaris 11 is expected to be part of a dependency-aware packaging tool that allows the entire Oracle software stack - from server BIOS all the way up through applications - to be patched and updated as a whole, reducing errors and system administration overhead. (Admins: look to your left and to your right.
Two out of three of you are gone.) Solaris 11 will also reduce maintenance windows by allowing more system software components to be patched without restarting (Oracle thinks it can cut restarts in half.) The future operating system will also have the proactive and pre-emptive maintenance features that Sun had been yammering about since before Solaris 10 was launched in January 2005.
Solaris 11 will also have a fast reboot feature, allowing for a server to be rebooted in ten seconds instead of ten minutes. And it will have performance tweaks to make it make Oracle's Fusion middleware (the aforementioned WebLogic and JRockit stuff) sit up and bark.
In addition to previewing Solaris 11, Oracle announced the delivery of the Oracle VM Server for Sparc 2.0 hypervisor, formerly known as Logical Domains or LDoms. This hypervisor, which ships free on all Sparc T series servers, allows for up to 128 logical domain partitions to be set up on a single physical server. (It can be as fine-grained as a single thread on many of the machines).
The updated hypervisor will allow for Solaris 10 and Solaris 11 Express to be run side-by-side on the Sparc T series machines; it also allows for PCI peripherals to be directly tied to guest operating systems running in domains and therefore providing native I/O performance. Dynamic memory allocation and reallocation underneath the domains without requiring a reboot has also been added, as has virtual disk multipathing to guests for higher availability. ®