Violin plays 40TB MLC fiddle
Another string to its bow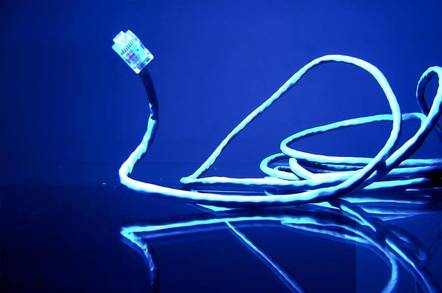 Violin Memory has introduced a 40TB capacity flash memory array for enterprises that uses multi-level cell (MLC) NAND and costs less than $16 per GB.
MLC flash, which uses 2-bits per cell in this application, is slower and cheaper than the single-level cell (SLC) flash used in most enterprise flash drives, such as those from STEC used by EMC, IBM, and others, and in Violin's own 3200 product, which has a 500GB to 10TB capacity range. But it still blows hard disk drives away in performance terms.
Violin's new 3140 array comes in a 3U enclosure, like the 3200, and there can be twelve or more in a rack providing in excess of 500TB of flash storage, delivering more than 2 million IOPS. The company says this is five times the rack density of hard disk drives with one fifth of the equivalent disk drive capacity's latency and power requirements. It also asserts that it costs more than 70 per cent less than SLC enterprise flash drives.
The product has hardware-based RAID across the hot-swap flash modules and uses Toshiba NAND chips, Toshiba having recently invested in Violin. Don Basile, Violin's CEO, said: "Through our partnership with Toshiba, Violin has brought to market an enterprise-grade MLC-based storage array that is both significantly higher density and lower cost than traditional performance storage arrays."
Storage Switzerland lead analyst George Crump reckons that the 3140 delivers better performance than 15,000rpm disk drives but at a similar price point. Violin isn't supplying any endurance figures for the product but does say it provides wear-leveling across the array and it is guaranteed to outlast performance disk drives. It also says all workload are supported with users having no need to be concerned about wear, and talks of the product being suitable for sustained read/write throughput in 24x7x365 operations.
Several MLC flash products claiming suitability for enterprise use have been announced recently, such as Pliant's Lightning LB 200M and 400M products using Micron chips, and STECs Mach16 which can use both SLC and MLC flash. If the pricing, performance and endurance numbers are right then these products could put a dent in sales of fast disk drives. ®