Quantum falls for RDX
Last main OEM prospect ticked off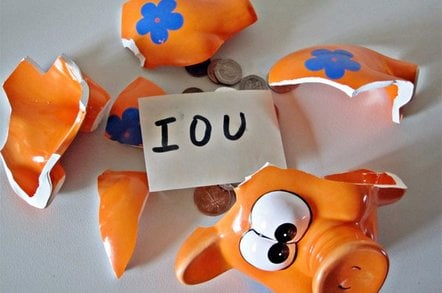 Quantum has signed up with ProStor to OEM its RDX removable disk drive, giving ProStor a virtual monopoly of the disk-based removable storage market for small and medium businesses.
Quantum's history is that of a tape storage vendor that used to develop and maintain its own proprietary DLT format but has had to adopt the all-conquering LTO formats and join HP and IBM in the LTO organisation. It has also had to embrace disk-based data protection with a line of DXi deduplicating storage arrays. It has its own GoVault removable disk cartridge system, which IBM resold until early 2008.
GoVault product is still available with cartridge capacities of 40GB, 80GB, 120G and 320GB, and unbranded data deduplication protection software offering an up to 20:1 reduction ratio.
ProStor has pursued an effective strategy of licensing two manufacturers, Tandberg and Imation, for its drives and docks, along with BDT for autoloaders, and having an OEM sales method. This has been a godsend to financially-troubled Tandberg, which notched up an impressive roster of OEM customers such as Dell, Fujitsu, Fujitsu Technology Services, NEC and HP.
Our understanding is that Imation supplies IBM with RDX product. Quantum's supplier has not been revealed.
The RDX comes as a removable and ruggedised 2.5-inch disk drive cartridge which is loaded into a dock for data transfer to and from a host system. Cartridges are sold separately in 160GB, 320GB, 500GB and 640GB capacities, way more than GoVault, and are read and write compatible and interchangeable with any RDX dock. Imation and Tandberg have a 1TB cartridge available and ProStor says a 1.5TB one is coming.
The entry-level Quantum RDX system includes a dock in either USB tabletop, SATA or USB internal format, removable cartridges and Quantum GoProtect backup software for Windows. GoProtect has data reduction technology with an up to 20:1 reduction ratio, and we believe its the same software as that used on the GoVault product.
Quantum says its RDX products can serve as a replacement for low-end tape devices, such as DDS/DAT, which, by the way, Quantum sells as well. RDX is "an ideal, cost-effective backup solution for SMB customers that like the portability of their current tape devices but also want the performance advantages of disk," according to SVP Rob Clark, who looks after Quantum's tape business and OEM partnerships. It is also an obvious successor to the GoVault product, which we think is likely to undergo an end of life experience in the not too distant future.
This is a good win for ProStor and a recognition of the inevitable by Quantum, which could be forgiven for thinking that, over time, DDS and DAT sales will decline while removable disk product sales increase. Every RDX dock and autoloader sale is a lost tape system sale. The only tape system developer of any consequence not selling RDX systems is now Oracle, with its StorageTek operation. Since Oracle doesn't sell tape systems to the SMB market ProStor looks to have no OEM opportunity in Larry Ellison's domain.
Quantum's RDX system is available now worldwide. The manufacturer's suggested retail pricing for tabletop product, including a dock, removable cartridges and software, starts at just over $300, with 160GB cartridges starting under $150. ®
Sponsored: How to Process, Wrangle, Analyze and Visualize your Data with Three Complementary Tools