PARC turns 40: mice, money, and the new interwebs
A place whose time has come. Again
Where do all the Simonyi's go now?
Cutting reckoned the PARC model can still work because it takes the longer view and the technology world is dominated by short-term or product-oriented corporate research agendas. He noted, though, that PARC is under pressure from well-funded start-ups to get the brains. Cutting should know: he left the favored research halls of Sunnyvale's Yahoo! (where he was working on Hadoop) to join Cloudera, a venture-founded Hadoop start-up in Palo Alto under relational-database veteran Michael Olson.
"The essence of this model, reaching for the stars, can still work. Most folks are focused on building technology for the next year rather than inventing technologies for the next century," Cutting said.
The other big challenge PARC faces is wooing the kind of plasma-rocket powered talent it attracted in the early days. All the pioneers of yesterday are struggling to stand out as talent is attracted by big-data or social network ventures or start-ups like Amazon, Google, Facebook, and Twitter, or lured by exciting open-source challenges like Ubuntu and Hadoop or cloud computing.
Simonyi left PARC to join Bill Gates' then-new computer software company Microsoft, building Word and Excel, while others from elsewhere joined Microsoft in the 1990s to build Windows on the server and Internet Explorer. Today, Microsoft is losing the new Simonyis to Google, Amazon, and Facebook or to venture-funded start-ups like Cloudera.
If a $62bn revenue, highly competitive operation like Microsoft struggles, what hope is there for the vastly smaller PARC that literally and figuratively lives in the shadow of some of tech's biggest names today - Facebook in Palo Alto and Google in Mountain View.
Cutting's answer is for PARC to become even more of a start-up incubator in order to attract the sort of talent required to invent next generations of technologies. "Technology innovators today are rarely just academics seeking to advance science, but are also entrepreneurs, seeking to build businesses based on their inventions," Hadoop's founder said.
He warned, though, that the start-up incubator model has pros and cons. "Market realities generally provide better validation of technological utility than do journal committees. But some great technologies can take time to develop a market, and requiring them to create profits too soon may be counter-productive. So perseverance and selection are critical, too."
PARC is moving with the times. It has picked up the open-source and community model - although it's using these selectively, as Bernstein reckons it's about taking the right approach for the right technology. Don't forget, too, that PARC is trying to make a living from IP licensing for some of its ideas, and that doesn't jive with open source. PARC has dropped a version of CCN called CCNx under GPLv2 and LGPLv2, while it's also working with nine universities on the future of the internet through the NSF.
But PARC is still managing to pull in talent: CCN is the work of former Cisco Systems chief scientist and primary contributor to TCP/IP Van Jacobson, who joined PARC in 2006. Van Jacobson is a PARC research fellow whose work on TCP/IP helped the internet to expand in the late 1980s by handling growing demands for faster speed.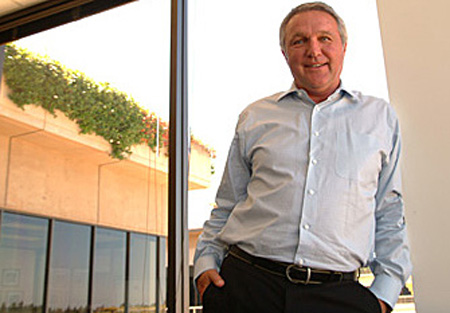 Bernstein: we attract people who want to make a difference (photo by Gavin Clarke)
Van Jacobson's hire points to some strategic decision-making at PARC: to look for opportunities in one or more of its core competencies in networking and communications, ethnography, green and clean tech, contextual intelligence, micro electronics services, and prototyping.
Van Jacobson was brought in because Lunt wanted what St. Claire called "something big." "She wanted something big in options, she wanted a breakthough, she wanted a paradigm shift. So she went out looking for that tech and found Van Jacobson and convinced him his vision for CCN for this next-generation internet could be realized here at PARC."
Bernstein parries that it's the diversity of work that attracts people to PARC and the opportunity to make a real difference. "If someone wants to do theoretical work they can do that at a university, but we are interested in people that have a passion and strong intuition about the world and want to see what they do impact the world," he said.
Outside academia, beyond the product
Corporate research is channeled into short-term product goals and corporate agendas fixing the mess we're already in, and building on existing ideas. "Corporate research is hanging on by its fingernails in a few prominent spaces around the large companies like IBM, Hewlett-Packard and Microsoft. I think most of the innovation today is at the pace of the incremental kinds of activity around fixing the problems that IT propagation has created.
"At PARC we provide young researchers with a number of paths for their work to find its way into the world... whether that's through the traditional Xerox PARC way or through work we do with government, start-ups or partnerships we do," Bernstein said.
In the first 40 years, PARC's been born and re-born, brilliant and badly managed. PARC's been buffeted by the winds of changing corporate priorities and attacks from competitors on its owner, while there's been a fundamental shift in the model of innovation. Now, its charter of the office of the future has been massively expanded to encompass the very fabric of the 'net.