Intel trials downloadable CPU upgrades
Want HyperThreading enabled? There's an app for that...
Intel is trialling a processor that can be made to run faster - if you cough up extra cash.
The chip is the little known Pentium G6951. It's currently being offered to a "limited number" system builders in the US, Canada, the Netherlands and Spain on a "pilot" basis, but presumably Intel will widen availability if the scheme proves popular.
Acer-owned Gateway is among the vendors trying the system out.
How does it work? PC maker A sells "upgradeable" PC to punter, who can then buy an unlock code, download an app from Intel and enter the code into it to unleash the "processor performance upgrade", which involves an "increase from two- to four-way multi-task processing" and a "larger cache".
The 'upgrade' centres on enabling HyperThreading on the Core i3-derived dual-core CPU, for which US buyers are expected to pay an extra $50.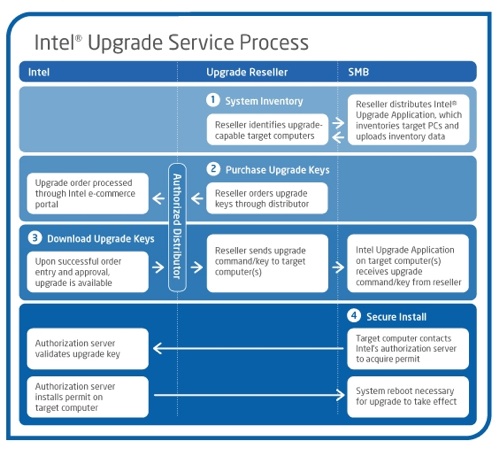 The savvy consumer can probably pick up a machine with an HT-enabled CPU for less than $50, but we suspect Intel is trying to tap into the desires of buyers a year or two into the life of their computer, and specifically buyers who aren't going to consider either buying a new machine, extra memory or simply running a utility like CCleaner to remove all the crud that accumulates on Windows machines.
Naturally, the folk most up in arms about this scheme are the very people least likely to buy such an 'upgradeable' machine in the first place. They see it setting a dangerous precedent: if they buy any Intel CPU in future, will they be getting the performance they're paying for?
Possibly, yes - but not necessarily the maximum performance of which that CPU is capable. If Intel can sell a $100 chip that can be made to run as well as a $150 for an extra $75, it's doing nothing wrong providing it's not promising the higher level of performance from the outset.
We've been at the stage where a given processor line has dozens of slightly faster variants for a long time. It's up to us as buyers to pick the best one, which isn't necessarily always the priciest part.
Would you be pissed off if you bought a 2GHz Intel chip only for the company to release a 3GHz version a year later? No, you'd chalk that up to the natural evolution of processors. There will always be something better, faster just around the corner. Does it really matter if you get the upgrade by buying a download or new silicon if the results is the same? ®
Sponsored: Detecting cyber attacks as a small to medium business