Shuttle ships skinny Nvidia Ion 2 systems
Tiny PCs
Shuttle has introduced a line of slimline, screen-mountable desktops based on Nvidia's second-generation Ion chipset and Intel's Atom processors.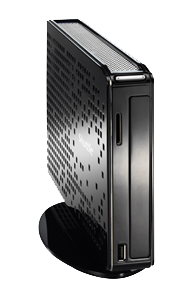 The XS35 comes in barebone form for the DIY PC crowd, but Shuttle will also sell a range of pre-built systems. They all used the 1.66GHz, dual-core Atom D510 and incorporate five USB ports, 802.11n Wi-Fi and Ethernet.
Pre-installed memory on the pre-built systems tops out at 2GB, with hard drive options running from 160GB to 500GB. Some models have DVD writers, others don't.
All the Ion 2-equipped units have HDMI output, but a number of more basic models, which rely on the Intel's integrated GMA 3150 graphics, just have VGA for a monitor connection.
Shuttle has a full list of model here. Barebone prices range from around £175 for the integrated model to £239 for the Ion 2-based X35GT. The pre-built models start at £391. ®