Cyberlink v. Nero media authoring suites
Taste the difference
With a range of audio utilities in its suite, Nero makes everything complicated by sending you the wrong way from its StartSmart launcher. If you choose the 'Rip and Burn Music' task, it sends you to Nero Burning ROM and asks what kind of disc you want to create. A better idea is to click on 'Audio Ripping' in the Quick Tasks panel. Alternatively, choose the 'Play Back and Organise Music' task, which launches MediaHub, from where you can select the audio CD in your drive, select the tracks and click on the tiny Rip button. Phew.
Nero's WaveEditor program looks and feels like a slightly simpler version of the free audio editing utility, Audacity.. It's fine for audio-savvy users who know what 'doppler', 'pseudo reverse' and 'camera denoiser' are but, personally, I think I need something more along the lines of 'warmify'. The edits you make are non-destructive, so you can always revert back to the original audio file.
Also included in the suite is Nero SoundTrax, a program that lets you prepare the audio content of a disc using multiple track timelines (instead of a conventional playlist) that can be remixed with effects and adjustments. You can work with surround sound and even mix tracks with each other – great for mash-ups!
DVD/Blu-ray authoring
It would be unthinkable these days to offer video editing without the ability to produce DVDs complete with interactive menus. Nero's Vision Xtra incorporates a wizard-like interface that helps you choose the type of project you want to create (DVD, AVCHD DVD, video CD or indeed, Blu-ray), with your media files and the order in which you want them presented. Clicking Next takes you to a big window for choosing and customising the menu templates. The 2D templates look cheap and amateurish but Nero's animated 3D templates are rather impressive.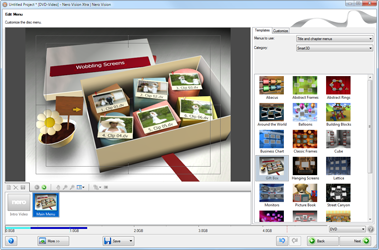 Nero Vision Xtra's DVD creation mode includes some remarkable animated 3D templates
Click for a larger image
Unfortunately, the program is not intuitive enough to get by without having to follow instructions in the Help menu. On the other hand, the low-resolution disc preview builds in a few seconds, which is great. You can call up a better quality preview if you want, but the pre-rendering takes forever.
Having edited your video clips in Cyberlink PowerDirector, clicking on the Create Disc tab at the top of the window switches the program into disc authoring mode. Here you can prepare DVD, AVCHD DVD, video CD and Blu-ray discs. You only get 15 templates but they are extremely professional in appearance, and you can download more than 2,600 templates from Cyberlink's Director Zone site, along with motion objects, frames and so on.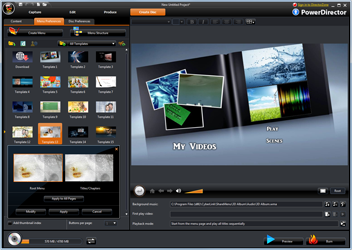 Cyberlink PowerDirector templates for creating DVD menus look very professional
Click for a larger image
As in Nero's Vision Xtra, PowerDirector shows a coloured bar along the bottom of the program window to indicate how much space you have left on your chosen disc type. Calling up a preview only takes a few seconds, and the program is generally quick and responsive.