Cyberlink v. Nero media authoring suites
Taste the difference
Review Back in the day, Cyberlink was best known for DVD player software, while Nero was a developer of CD-writing ('burning') utilities. Now both companies are producers of very successful creative multimedia suites that play DVDs, burn discs and a whole lot more. For an embarrassingly low price, both packages offer audio, video and image editing along with media file management, DVD and Blu-ray video authoring and playback, plus disc burning, label design and data backup. But which suite is better?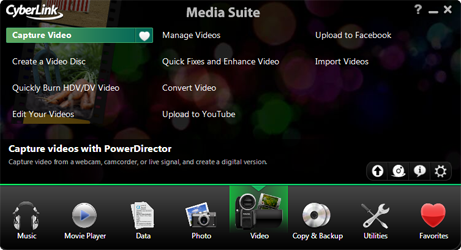 Cyberlink Media Suite PowerStarter looks slick and presents the tasks you want to do
Click for a larger image
Suite Launcher
Cyberlink and Nero have designed launchers utilities, which you might assume to be a bit childish, yet when faced with juggling a dozen unfamiliar programs in the Start menu, you soon realise how valuable these launchers are. Cyberlink's Media Suite PowerStarter is a slick, task-based program launcher with attractive animated visuals. Once you get a better idea of the programs that make up the suite, you can add your most commonly used tasks to a 'Favourites' section for even quicker access.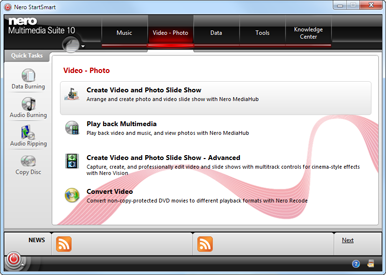 Nero StartSmart fails to offer simple tasks, preferring wordy explanations instead
Click for a larger image
Nero's StartSmart can be confusing, for example, clicking on 'Create Video and Photo Slide Show' doesn't let you edit video at all. For that, you click on the 'Advanced' option, then Neo Vision Xtra opens, asking what you want to do... which seems to negate the whole point of having a launcher to begin with.
Media file management
Both suites provide a program for browsing and organising photos, videos and audio files. Nero MediaHub is a clean, uncomplicated browser with resizeable thumbnails. You can switch quickly between Music, Photos and Videos, while also being able to manage playlists and set up attractive slideshows. The Search field locates files quickly, and you can sort them in a number of ways. Alas, you can't add metadata tags, flags or ratings for additional organisation.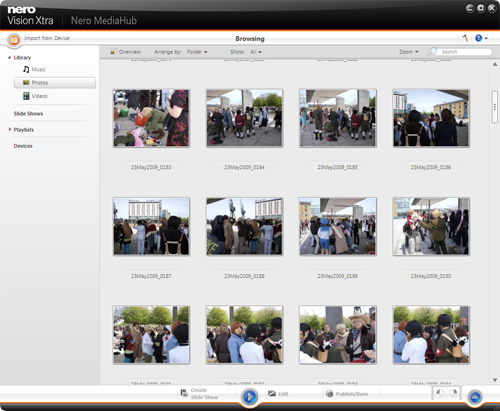 Nero MediaHub is limited to browsing but you can trigger a disc burn directly from here
Click for a larger image
More useful is the way you can use the program for importing images from connected cameras by clicking on the 'Import from Device' button. You can also open images for editing and send selected files for burning to disc or uploading to the Internet from the main window.