Olympus E-450
Review Olympus isn't the first brand that comes to mind when you're looking for a new DSLR, but that doesn't mean the 10Mp E-450 is a disappointment. Its styling has a retro charm, with its chunky leather-effect grip, and there's no complaining about its size, either. 130mm wide and just under 100mm tall, it's easily small enough to pop into a bag.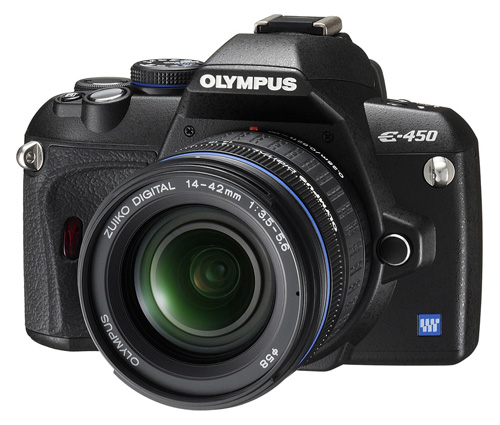 It offers multiple memory card slots, with both Olympus's xD and the more common (and spacious) Compact Flash. While you don't get the dual card features of more expensive DSLRs, you can populate both slots at once and manually flick between the two when one fills up.
Image quality is another definite plus at ISO 800 and below. Test images were smooth and subtle, if a little less sharp than others when cropped in. However, the limitations of the Four Thirds sensor - significantly smaller than the APS-C sensor in other DSLRs, become apparent at the E-450's 1600 ISO setting. Noise was disruptive and multi-coloured, so there's no hope of writing it off as film grain.
The Four Thirds, rather than Micro Four Thirds sensor is the reason the kit lens is a tad disappointing. While 14-42mm sounds like a gloriously wide-angle lens, you need to multiply the focal length by two to get its 35mm equivalent. APS-C sensor cameras require you to multiply a lens' focal length by either 1.5 or 1.6. That means the Canon 18-55mm kit lens is really a 28.8-88mm lens: the Olympus's is almost identical, at 28-84mm in 35mm terms.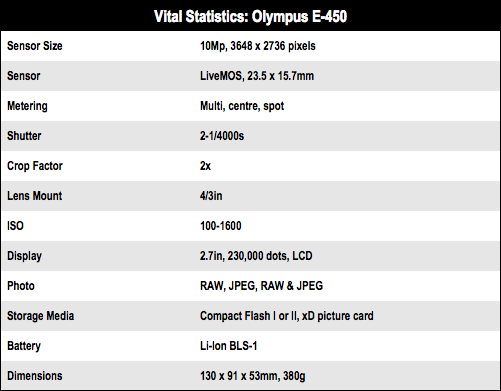 Sponsored: Detecting cyber attacks as a small to medium business