HP Pavilion dv6-3085ea 15.6in notebook
Family favourite?
Pointing the finger
I'm just wondering why a notebook that is so clearly intended for use as a leisure and entertainment PC should include a fingerprint reader at all. The HP Pavilion dv6-3085ea has a £200 premium over the price of the other Pavilion dv6 models: surely it can't be down to this fingerprint lark, can it?
Benchmark Tests
PCMark Vantage Results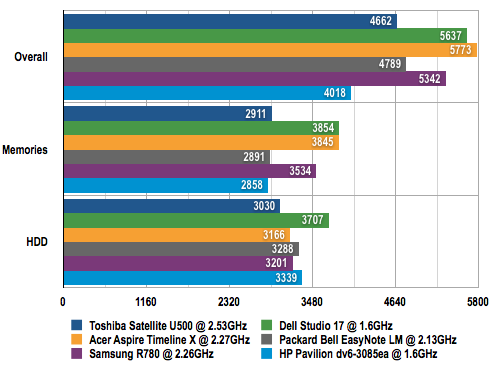 Longer bars are better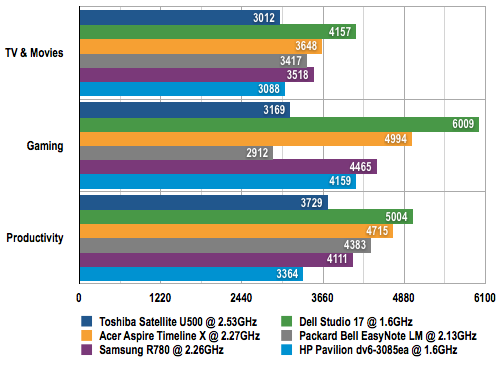 Longer bars are better
Despite this, the most striking feature of this notebook, as far as I'm concerned, is HP QuickWeb. This is a mini HP operating system that kicks in within a few seconds of the unit being switched on, with a graphical interface that provides access to your photos, videos and music. It even lets you check your e-mail, browse the web, start an online chat or run Skype. All of this happens without having to wait for Windows 7 to launch.
Battery Life Results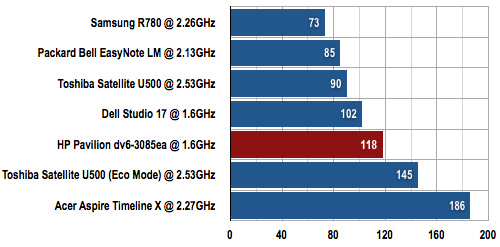 Battery life in minutes
Longer bars are better
Hang on, HP QuickWeb doesn't ask me for a login. That means it circumvents my PC login AND fingerprint check in one go. Oh brilliant, I'm so glad I spent that extra £200 on security. Still, I'm rather fond of this feature. It's not exactly 'instant-on' but comes pretty damn close. Oddly enough, though, you'll have to run Windows if you want to watch a DVD.