Air mouse targets TV - Apple to follow?
Gesticulating at the telly will actually make things happen!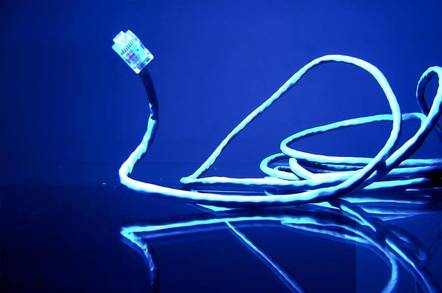 Movea, the company behind the Gyration Air Mouse, is pushing into television with a module for adding gesture control to the humble zapper.
Waving the remote at the TV might not work right now, but Movea intends to change that with its Motion Pod - enabling remote control manufacturers to add gestures to their repertoire.

Given the utility of existing remotes - their ability to fulfil the role required of them - one might wonder why such additional capability would be useful. Movea reckons that embedding its technology into remotes for set-top boxes can enable an interface that competes more effectively with computers pushed into a media-centre role, or even Apple-TV-type plays.
The problem is that Apple TV could easily adopt gesture control if it proves popular - a simple iPhone/Android application could provide much the same functionality (patents permitting), putting the set-top box manufacturers back where they started.
But PDAs and mobile phones have had the ability to replace the TV remote control for a decade or two now, and resolutely failed to do so, so perhaps Movea is on to something - unless we end up waving our empty hands instead, thanks to Mircosoft's Kinect. ®